7-Day Southwest Highlights National Parks Lodging Tour
Product Code: 245-83710
Highlights
• Monument Valley
• Wild Wild West
• Zion and Bryce National Parks
• Grand Canyon
• Las Vegas
Tour Type:
Adventure/Activities
Experience:

UNESCO, Nature, Adventure

Visit locations designated as World Heritage Sites by the United Nations; Get in touch with Mother Earth; Explore the world with an active and adrenaline pumping tour
Style:

Escorted

Tour director/guided escort is available from the beginning to the end of the vacation
Group Type:

Small group

Take an intimate and semi-private trip with a small group
Activity Level:

Moderate, Strenuous

Designed for travelers in good health who are comfortable with light walking or hiking; Activities are geared towards experienced and fit travelers
Quality:

Camping, Standard

Each night you'll unroll your bedroll and sleep beneath the stars; Travel with professional guides, enjoy more time at attractions and/or stay at comfortable accommodations
Accessibility:

Not accessible

Tour does not have wheelchair accessible vehicles/attractions or allow service dogs
Las Vegas - Zion National Park
Hotel: 3 star hotel or similar
Leaving the bright lights of Las Vegas behind us for awhile, we'll head out to Utah's finest national park - Zion. Massive canyon walls and red sandstone cliffs ascend toward a brilliant blue sky. Challenge yourself to what's considered the best half-day hike in the Southwest by hiking a narrow ridge line to Angels Landing.



Take it easy exploring the pristine Emerald pools or enjoy a river hike deep in the narrows.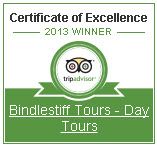 Tripadvisor Certificate of Excellence 2013, 2014 and 2015
Visiting Attractions
Bryce Canyon National Park
Hotel: 3 star hotel or similar
A short drive today we'll takes us to an elevation of 8000 ft and into Bryce Canyon National Park. Take a stroll along the rim and marvel at the unique sandstone spires (hoodoos) that rise dramatically from the natural amphitheater. Hike down into the hoodoos for an up close and personal experience with this fascinating landscape.


Visiting Attractions
Bryce Canyon National Park - Arches National Park
Hotel: 3 star hotel or similar
Today, you can explore this stunning landscape in a guided sunset hummer tour (own expense) or hang of a sandstone cliff on one of our optional canyoneering adventures (own expense)! Then we'll visit Arches National Park, home to over 2000 arches, for a hike up to Delicate Arch.
Tips:

All optional tours and excursions are subject to availability.
Visiting Attractions
Arches National Park - Canyonlands National Park
Hotel: 3 star hotel or similar
Today we'll enjoy hikes through Canyonlands National Park where the Green river meets the Colorado in some of the most spectacular scenery the southwest has to offer. We'll swap tales of Butch Cassidy and the Sun-dance Kid who used the canyons to hide from the law in the late 1800's, visit the local town and enjoy Utah's greatest adventure capital.
Visiting Attractions
Canyonlands National Park - Monument Valley
Hotel: 3 star hotel or similar
Heading south we'll wind our way through more of the Southwest's spectacular scenery to one of the most iconic locations on the planet: Monument Valley. This region has been used as the background for many famous western movies and home to the Navajo Indians. Hop onboard a 4X4 jeep and enjoy an included Navajo guided tour of Monument Valley.
Visiting Attractions
Monument Valley - Grand Canyon
Hotel: 3 star hotel or similar
Saving the best for last! After a brief visit to a Navajo trading post we'll follow the mighty
Colorado River through the painted desert to one of the seven natural wonders of the world!

Take in a bird's eye view on an optional helicopter ride (own expense), stroll along the rim at sunset, take a hike into the one of the deepest and most diverse canyons on earth or simply relax in one the rim cafes and admire the view before the sunset on the rim.
Tips:

Enjoy an optional visit to the world's most famous slot canyon - Antelope Canyon - this morning ($45 pp) followed by a scenic walk to view Horseshoe Bend before heading to the Grand Canyon.
Grand Canyon - Route 66 - Las Vegas
We'll get our kicks at Route 66 and arrive back in Sin City in plenty of time to relax poolside before heading for the strip for a night out.

Combine this tour with our award winning 7 day Yellowstone Rocky Mountain Explorer Tour for an epic 14 day USA adventure!
Visiting Attractions
| | | |
| --- | --- | --- |
| | Please note that order of day-to-day itinerary is adjustable depending on tour start day. | |
Search for your nearest pickup point
Time
Region
Location
Full Address
8:00AM
Las Vegas
Super 8 Las Vegas Strip

(From the Airport follow the signs to Courtesy Hotel Pick Up area and use the free customer service phone to call your free 24 hour shuttle to the hotel. Alternatively jump in a taxi, it's only 15 minutes from the airport and should cost under $20.)

4250 Koval Lane, 1 Block off the Strip, Las Vegas, NV 89109
Package Includes
6-night hotel accommodations in a twin share room 3 star and above
Fabulous National Park hikes
Visit to the historic Route 66 birthplace
Incredible wildlife viewing opportunities
Navajo guided jeep tour of Monument Valley
Grand Canyon sunset viewing
Professional Tour Guide
All private transportation in a modern and comfortable 14 passenger minibus or 9 passenger minibus/SUV
Entrance to National Parks Grand Canyon, Zion, Bryce Canyon, Arches, Canyonlands and Monument Valley Tribal Park
Package Excludes
Airfares or related transportation between your home and departure location
Local food payment of USD 45 per person - covers 7 lunches.
Other meals
Optional activities: Booked and paid locally with tour guide:
- Grand Canyon Helicopter flight USD 200 - 295(from 1/1/2018, the price will be $220.00-$350.00)
- Slick Rock Sunset Hummer Tour USD 80 - 100
- Canyoneering USD 100 - 140
- Antelope Canyon Tour 40/person(from 1/1/2018, the price will be $40.00-$50.00)
Tips for your tour guide or driver is not included - we recommend 15% per person.
Please include your email address when you make your reservation for re-confirmation and important information pertaining to your tour.
During spring and summer, we suggest wearing comfortable shoes, a lightweight jacket and sun hat.
We do not provide water on this tour, as a member of the International Eco Tourism Society we encourage our guests to bring a refillable container. This may be as simple as a plastic 1 liter bottle purchased from any convenience store. You may refill this every time we make a comfort stop and we will happily recycle it for you at the end of you tour if you wish.
There are many opportunities for walks and hikes on this tour. Not all walks are guided. Your Tour Leader will advise and make recommendations for walks to suit your ability and interest.
Cancellation policy:
Cancellation Made Within-------------------------------------Cancellation Fee
58 or within 58 Days Prior to Departure Date------------100% of Reservation Cost
59 or More Days Prior to Departure Date-----------------10% of Reservation Cost

This tour/activity is overseen by a select local operator in the region. Upon booking your tour or activity and after receiving confirmation, you will be issued an e-ticket detailing the local operator's name and contact information. If you require assistance finding a specific tour, please contact us for more information.
Pricing Info
Your reservation is always subject to confirmation by email, normally within one to two business days.
*Price based on twin shared room basis. Single occupancy is not offered. Single travelers will be paired with another traveler of the same sex(not guaranteed, solo traveler need to pay price for the whole double room, if paired room successfully, solo traveler will be refunded 50% of the total charge).
*Price is for per person.
*Children under 7 years of age cannot partake in this tour. Children aged 7-17 are ok if accompanied by an adult.
Reservation Info
1.Immediately after submitting your reservation you will receive a Receipt of Reservation via email.

2. Within one to two business days of submitting your reservation you will receive a confirmation email from us. If you need to book an airline ticket, we recommend that you do so after you receive a confirmation of your tour reservation from us.

3. An E-Ticket will be sent to you via email as soon as details of your reservation are confirmed or your supporting information is received by us. We will provide you with all detailed information about your tour on the E-Ticket. Contact information for local tour provider will be included on E-Ticket for your convenience or re-confirmation purpose if re-confirmation is required.

4. Simply print your E-Ticket and present it with your valid photo ID on the day of your activity to your tour guide. Please remember E-Ticket is your proof of purchase.
Terms and Conditions
- Your purchase does not guarantee confirmation. Your purchase will initiate a reservation process. We will confirm with you via email within one to two business days.

- Prices may vary due to availability. We reserve the right to make price adjustment without prior notice.

- Local tour provider reserves the right to make modifications to tour arrangements including order of tour activities, hotel and its location if deemed necessary.
Write a Review and earn 200 points. Attach photos to your review and earn 25 points per photo.
Please check the Rewards4Fun Program FAQ for more information.
Tell Us
Forbes

Verified Purchased

05/12/2016

Wonder of nature

We really love the beautiful of Grand Canyon! This tour also offers us the opportunity to visit other national parks! Wonderful!!
Questions previously answered may have different answers due to many reasons: season (date and year of travel), rates, availability, etc. Please check the Rewards4Fun Program FAQ for more information.
Ask Us
Edit Photo Title & Description
Loading……
6
Why Book with Tours4fun?
Best Price Guarantee
Hand-picked Tours & Activities
24/7 Customer Support