NY See The Holiday Lights! Tour
Product Code: 106-3236
Highlights
• See the famous Rockefeller Center Christmas Tree!
• Columbus Circle
• Lincoln Center
• Bryant Park
• Fifth Avenue
• Lord and Taylor Windows
• Macy's Windows
• Washington Square Park
• Madison Square Park
Tour Type:
Sightseeing Tours
During the holidays, our night tour converts to the best holiday lights show in NYC!

New Itinerary:

• Columbus Circle (Time Warner Center)
• Lincoln Center
• Bryant Park
• Lord and Taylor Department Store (Fabulous 5th Avenue) Windows
• Macy's Department Store Windows
• Columbus Circle
• Guided tour of Rockefeller Center to see the famous Christmas Tree all lit up!

Other companies may show you some of those sights, but doesn't it make more sense to take a tour with the company that will escort you through the attractions, educate you about their history, and really let you experience them? This tour is truly the best way to see the holiday lights of New York City.

Drive by Rockefeller Center and see New York City's most famous Christmas Tree. We'll show you Christmas window displays at several of New York's top stores, including FAO Schwartz, Bloomingdales, Lord & Taylor, and the top stores on 5th Avenue. You'll also see Macy's Department Store, home of the Macy's Thanksgiving Day Parade, and the other shops at Herald Square.

See the lights of Times Square - more neon per square foot than anywhere else in the world! What a great place to be during the holidays!

Drive through Columbus Circle, at the southwest corner of Central Park, and see the horse-drawn carriages, the park itself, Time Warner Center, and ultimately world-famous Lincoln Center for the Performing Arts. We'll also make a quick stop to see the skaters and the Holiday Market at Bryant Park.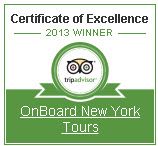 Tripadvisor Certificate of Excellence 2013
Search for your nearest pickup point
Package Includes
Complimentary pick-up and drop-off to chosen location (See meeting point)
Mini-bus assigned if needed
Professional tour escort
Package Excludes
Airfares or related transportation between your home and NY airport or chosen pick-up location
The tour does not include a boat cruise or passes to the Top of The Rock.
All personal expenses including hotel room service and meals, however, you have the option to pay for meals that the tour guide arranges
Tips for tour guide
Once purchased, this tour is non-refundable.
This tour/activity is overseen by a select local operator in the region. Upon booking your tour or activity and after receiving confirmation, you will be issued an e-ticket detailing the local operator's name and contact information. If you require assistance finding a specific tour, please contact us for more information.
Pricing Info
Your reservation is always subject to confirmation by email, normally within one to two business days.
*Adult age: 13 and older
*Child age: under 13.
*Infants under 2 join the tour for free as long as they sit on the lap of the adults.
The price is based on the final confirmed price since it is subject to change due to holidays.
Reservation Info
1.Immediately after submitting your reservation you will receive a Receipt of Reservation via email.

2. Within one to two business days of submitting your reservation you will receive a confirmation email from us. If you need to book an airline ticket, we recommend that you do so after you receive a confirmation of your tour reservation from us.

3. An E-Ticket will be sent to you via email as soon as details of your reservation are confirmed or your supporting information is received by us. We will provide you with all detailed information about your tour on the E-Ticket. Contact information for local tour provider will be included on E-Ticket for your convenience or re-confirmation purpose if re-confirmation is required.

4. Simply print your E-Ticket and present it with your valid photo ID on the day of your activity to your tour guide. Please remember E-Ticket is your proof of purchase.
Terms and Conditions
- Your purchase does not guarantee confirmation. Your purchase will initiate a reservation process. We will confirm with you via email within one to two business days.

- Prices may vary due to availability. We reserve the right to make price adjustment without prior notice.

- Local tour provider reserves the right to make modifications to tour arrangements including order of tour activities, hotel and its location if deemed necessary.
Write a Review and earn 200 points. Attach photos to your review and earn 25 points per photo.
Please check the Rewards4Fun Program FAQ for more information.
Tell Us
Sheena Horton

Verified Purchased

08/22/2011

See New York in comfort and style

What a great tour. Nothing was to much trouble for our guide Dave who was very informative and helpful for the duration of the tour. His uncanny resemblance to Robert Di Nero added to the experience.

Sandy K.

Verified Purchased

08/22/2011

Really nice

I wanted to make our one day trip into New York City really worthwhile, and knew from your website and presentation that I had made the right choice when I booked the tickets the night before. That was proven when we met the shuttle for our... tour. The greetings from everyone really made us feel welcome. Milly was an excellent driver (nice to see a lady driving!) and Robert was the best guide I?ve ever had the pleasure to take a tour with. He truly personalized the tour for each and everyone of the guests! I thank him for his patience when my dad would lag behind, and the refreshments were a nice touch to help us keep our stamina! Thank you again for helping me make such a memorable visit for my father! Read full review

Stacy

Verified Purchased

04/14/2011

wonderful

The tour was terrific! Joel was a great guide. We all had a wonderful time. Thanks again!
Questions previously answered may have different answers due to many reasons: season (date and year of travel), rates, availability, etc. Please check the Rewards4Fun Program FAQ for more information.
Ask Us
I will be staying about a mile from the meeting point. Can you send someone to pick me up at my hotel?
10/29/2017 15:59:58
Tours4Fun
10/29/2017 16:41:52
Dear Janice,

Thank you for your inquiry at Tours4Fun.

We can only pick up from the meeting point of the tour.

7:00PM New York at 53rd street between 7th Avenue and Broadway 1700 Broadway, New York, NY, United States

We do have limited seats available on certain dates. We suggest you make your reservation now to secure your space on your desired departure date.

To place your order for a reservation online, simply select your desired tour start date and the number of rooms you need/ travelers you are booking for on the upper right portion of the tour information page, then click on "BOOK NOW".

Best Regards,
Kristine
Customer Service Rep
Edit Photo Title & Description
Loading……
0
Ask Our Experts
Destination Expert of North America
Miriam Garcia
Los Angeles, United States
Customize This Tour For Me
Why Book with Tours4fun?
Best Price Guarantee
Hand-picked Tours & Activities
24/7 Customer Support