2-Day Grand Canyon Overnight Camping Tour (Product Code: 245-6175)
**Small Group Tour** ** More Time For Exploration**
| | | |
| --- | --- | --- |
| | Please note that order of day-to-day itinerary is adjustable depending on tour start day. | |
Day 1
Las Vegas - Hoover Dam - Williams - Grand Canyon National Park (South Rim) - Tusayan
Summary of The Day: Our first stop is the Hoover Dam for a chance to marvel at its sheer size and grab a photo before journeying to the birthplace of Historic Route 66. Get your kicks and let's go! We'll make a brief stop in Williams - the home of the of the famous Grand Canyon Railway.

Take in a bird's eye view on an optional helicopter ride, stroll along the rim, take a hike into the one of the deepest and most diverse canyons on earth or simply relax in one the rim cafes and admire the magnificent view.

We'll find our secret ledge on the rim for a once in a lifetime sun set over the Grand Canyon away from the crowds! Enjoy your evening in the small town of Tusayan at one of the local restaurants or cozy bars or relax around our campfire .

There are many options for the following day.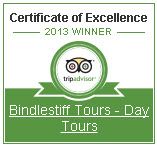 Tripadvisor Certificate of Excellence 2013, 2014 and 2015
Tips:

This tour offers pick-up service from hotels on the Las Vegas Strip. Please call the local provider to confirm their exact time and hotel pick-up 24 hours prior to departure.
Hotel:

Camping or similar
Visiting Attractions
Day 2
Tusayan - Grand Canyon National Park - Las Vegas
Summary of The Day: You may enjoy a longer half day or full day hike in the Grand Canyon or along the rim, take an optional included tour to Desert View Drive along the East Rim of this incredible national park. Enjoy rangers programs and endless photo opportunities before heading back to Las Vegas.

We head back to Las Vegas arriving at approximately 6:00pm after a full day in the park.

This tour only offers tent accommodations in good weather. It is not available during winter so please select "Upgrade (Lodging)(upgrade Price)."

For those of you who are looking for the perfect way to end your journey, you can EXTEND it by upgrading with one of our optional tours for this route!!

OPTIONAL TOUR UPGRADE: Wild West Ghost Town Itinerary
OPTIONAL TOUR UPGRADE: Death Valley Tour Itinerary
Visiting Attractions
Your reservation is always subject to confirmation by email, normally within one to two business days.
Standard Price/Person By Occupancy
| Adult | Child |
| --- | --- |
| USD $284.98 | USD $284.98 |
*Price based on a shared room basis. Single occupancy is not offered. Single travelers will be paired with another traveler of the same sex.
*We CANNOT take children under 7 years of age.
*Max group size is 14 passengers.
*Maximum room capacity: 2 people including adult and child/infant.
Complimentary pick-up and drop-off from selected hotels in Las Vegas
1-night accommodations (Camping)
Professional tour Leader
Hoover Dam photo stop
Park Entry
Airfares or related transportation between your home and departure location
Optional tours (Prices may vary depending on availability.):
-Helicopter Flight over The Grand Canyon ($199.00-$295.00)

Tips for your tour guide or driver.
Please call the provider 24 hours prior to your tour to confirm your pick-up time.
NO CAMPING OPTION IS OFFERED BETWEEN OCT. 1ST AND MAY 1ST
Please provide us with your email address when you make reservation for reconfirmation and important information pertaining to your tour.
Lodging option is available on twin share same sex or couple basis. Requires 2 Person Booking.
If you need to book a flight, we recommend that you book your flight after you receive a confirmation email from Tours4Fun for your reservation within one to two business days.
Cancellation policy:
Cancellation Made Within-------------------------------------Cancellation Fee
9 or within 9 Days Prior to Departure Date------------100% of Reservation Cost
10-14 Days Prior to Departure Date-----------------------50% of Reservation Cost
15-29 Days Prior to Departure Date---------------------- 25% of Reservation Cost
30 or More Days Prior to Departure Date-----------------10% of Reservation Cost
In the rare instance that your tour does not achieve the minimum number required to run, the local agency reserves the right to cancel the tour with a minimum of 5 days notice. The minimum numbers required to run a tour are 4 passengers. We strongly advise you not to incur any non refundable expenses such as flights until you have received confirmation from us that your tour is running.
Tours4Fun cooperates with top local area tour operators and ensures the best quality of services to all travelers. We provide tour coaches that all are insured with a liability insurance coverage from $5,000,000 to $10,000,000 to make sure that your trips are safer and more enjoyable.
1.Immediately after submitting your reservation you will receive a Receipt of Reservation via email.

2. Within one to two business days of submitting your reservation you will receive a confirmation email from us. If you need to book an airline ticket, we recommend that you do so after you receive a confirmation of your tour reservation from us.

3. An E-Ticket will be sent to you via email as soon as details of your reservation are confirmed or your supporting information is received by us. We will provide you with all detailed information about your tour on the E-Ticket. Contact information for local tour provider will be included on E-Ticket for your convenience or re-confirmation purpose if re-confirmation is required.

4. Simply print your E-Ticket and present it with your valid photo ID on the day of your activity to your tour guide. Please remember E-Ticket is your proof of purchase.
- Your purchase does not guarantee confirmation. Your purchase will initiate a reservation process. We will confirm with you via email within one to two business days.

- Prices may vary due to availability. We reserve the right to make price adjustment without prior notice.

- Local tour provider reserves the right to make modifications to tour arrangements including order of tour activities, hotel and its location if deemed necessary.
Write a Review and earn 200 points. Attach photos to your review and earn 25 points per photo.
Please check the Rewards4Fun Program FAQ for more information.
Tell Us
Tell Us
Sign in
to earn points for this review.
Jessica

Awsome Trip!!

( Verified Purchased )

I loved this trip, it was so great that they pick you up from your hotel. Route 66 was really cool to see & eating at the Roadrunner café was really cool, it's a cute little café. I'm really glad I did this trip, seeing the Grand Canyon was...as amazing, & I really liked camping out under the stars. Having 2 days in the canyon is really good cause one day wont be enough time. Thanks Jo for being an awesome tour guide. Read full review

HUNG Chi Wah Teresa

exciting tour

( Verified Purchased )

I have the chance to hike in the Grand Canyon. Well planned. Tour guide is caring and experienced.

Elaine King

Great hiking opportunities

( Verified Purchased )

I just took this tour and it was amazing, its well worth spending the night here as the drive is 5 hours each way-we though about a one day tour but they only offer 3 hours in the park and that 's definitely not enough time. We got to see ...a once in a lifetime sun rise and sunset and also had a really fun evening with a fun group around the campfire. Our tour guide was really really fun and made a few additional stops which someone else in the group had requested whcih was really nice of him. Excellent gear and brand new bus which was awesome! AMAZING AMAZING AMAZING Read full review
Questions previously answered may have different answers due to many reasons: season (date and year of travel), rates, availability, etc.Please check the Rewards4Fun Program FAQ for more information.
Ask Us
Edit Photo Title & Description
Loading……
Got a Question? Don't Hesitate.
1.866.933.7368 / 1.626.389.8668
Click here
Have our experienced tour consultant give you a call.
Why Book with Tours4Fun?
Best Price Guaranteed
Hand-picked Tours & Activities
Customer Satisfaction
Customer care available 24/7
You May Also Like