2-Day Grand Canyon Overnight Camping Tour
Product Code: 245-6175
More Time For Exploration
Highlights
• Grand Canyon Tour with Overnight Stay!
• Camping option
• Watch the spectacular Grand Canyon Sunset!
• Desert View Drive
Tour Type:
Adventure/Activities
Experience:

UNESCO, Nature, Adventure

Visit locations designated as World Heritage Sites by the United Nations; Get in touch with Mother Earth; Explore the world with an active and adrenaline pumping tour
Style:

Escorted

Tour director/guided escort is available from the beginning to the end of the vacation
Group Type:

Small group

Take an intimate and semi-private trip with a small group
Activity Level:

Moderate, Strenuous

Designed for travelers in good health who are comfortable with light walking or hiking; Activities are geared towards experienced and fit travelers
Quality:

Camping, Standard

Each night you'll unroll your bedroll and sleep beneath the stars; Travel with professional guides, enjoy more time at attractions and/or stay at comfortable accommodations
Accessibility:

Not accessible

Tour does not have wheelchair accessible vehicles/attractions or allow service dogs
Las Vegas - Hoover Dam - Williams - Grand Canyon National Park (South Rim) - Tusayan
Hotel: Camping or similar
Our first stop is the Hoover Dam for a chance to marvel at its sheer size and grab a photo before journeying to the birthplace of Historic Route 66. Get your kicks and let's go! We'll make a brief stop in Williams - the home of the of the famous Grand Canyon Railway.

Take in a bird's eye view on an optional helicopter ride, stroll along the rim, take a hike into the one of the deepest and most diverse canyons on earth or simply relax in one the rim cafes and admire the magnificent view.

We'll find our secret ledge on the rim for a once in a lifetime sun set over the Grand Canyon away from the crowds! Enjoy your evening in the small town of Tusayan at one of the local restaurants or cozy bars or relax around our campfire .

There are many options for the following day.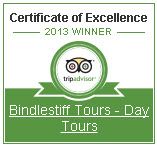 Tripadvisor Certificate of Excellence 2013, 2014 and 2015
Tips:

This tour offers pick-up service from hotels on the Las Vegas Strip. Please call the local provider to confirm their exact time and hotel pick-up 24 hours prior to departure.
Visiting Attractions
Tusayan - Grand Canyon National Park - Las Vegas
You may enjoy a longer half day or full day hike in the Grand Canyon or along the rim, take an optional included tour to Desert View Drive along the East Rim of this incredible national park. Enjoy rangers programs and endless photo opportunities before heading back to Las Vegas.

We head back to Las Vegas arriving at approximately 6:00pm after a full day in the park.

This tour only offers tent accommodations in good weather. It is not available during winter so please select "Upgrade (Lodging)(upgrade Price)."

For those of you who are looking for the perfect way to end your journey, you can EXTEND it by upgrading with one of our optional tours for this route!!

OPTIONAL TOUR UPGRADE: Wild West Ghost Town Itinerary
OPTIONAL TOUR UPGRADE: Death Valley Tour Itinerary
Visiting Attractions
| | | |
| --- | --- | --- |
| | Please note that order of day-to-day itinerary is adjustable depending on tour start day. | |
Package Includes
Complimentary pick-up and drop-off from selected hotels in Las Vegas
1-night accommodations (Camping)
Professional tour Leader
Hoover Dam photo stop
Park Entry
Package Excludes
Airfares or related transportation between your home and departure location
Optional tours (Prices may vary depending on availability.):
-Helicopter Flight over The Grand Canyon ($199.00-$295.00)/(from 1/1/2018, the price will be $220.00-$350.00)

Tips for your tour guide or driver($20/person/day).
Please call the provider 24 hours prior to your tour to confirm your pick-up time.
NO CAMPING OPTION IS OFFERED BETWEEN OCT. 1ST AND MAY 1ST
Please provide us with your email address when you make reservation for reconfirmation and important information pertaining to your tour.
Lodging option is available on twin share same sex or couple basis. Requires 2 Person Booking.
If you need to book a flight, we recommend that you book your flight after you receive a confirmation email from Tours4Fun for your reservation within one to two business days.
Cancellation policy:
Cancellation Made Within-------------------------------------Cancellation Fee
9 or within 9 Days Prior to Departure Date------------100% of Reservation Cost
10-14 Days Prior to Departure Date-----------------------50% of Reservation Cost
15-29 Days Prior to Departure Date---------------------- 25% of Reservation Cost
30 or More Days Prior to Departure Date-----------------10% of Reservation Cost
In the rare instance that your tour does not achieve the minimum number required to run, the local agency reserves the right to cancel the tour with a minimum of 5 days notice. The minimum numbers required to run a tour are 4 passengers. We strongly advise you not to incur any non refundable expenses such as flights until you have received confirmation from us that your tour is running.
This tour/activity is overseen by a select local operator in the region. Upon booking your tour or activity and after receiving confirmation, you will be issued an e-ticket detailing the local operator's name and contact information. If you require assistance finding a specific tour, please contact us for more information.
Pricing Info
Your reservation is always subject to confirmation by email, normally within one to two business days.
*Price based on a shared room basis. Single occupancy is not offered. Single travelers will be paired with another traveler of the same sex.
*We CANNOT take children under 7 years of age.
*Max group size is 14 passengers.
*Maximum room capacity: 2 people including adult and child/infant.
Reservation Info
1.Immediately after submitting your reservation you will receive a Receipt of Reservation via email.

2. Within one to two business days of submitting your reservation you will receive a confirmation email from us. If you need to book an airline ticket, we recommend that you do so after you receive a confirmation of your tour reservation from us.

3. An E-Ticket will be sent to you via email as soon as details of your reservation are confirmed or your supporting information is received by us. We will provide you with all detailed information about your tour on the E-Ticket. Contact information for local tour provider will be included on E-Ticket for your convenience or re-confirmation purpose if re-confirmation is required.

4. Simply print your E-Ticket and present it with your valid photo ID on the day of your activity to your tour guide. Please remember E-Ticket is your proof of purchase.
Terms and Conditions
- Your purchase does not guarantee confirmation. Your purchase will initiate a reservation process. We will confirm with you via email within one to two business days.

- Prices may vary due to availability. We reserve the right to make price adjustment without prior notice.

- Local tour provider reserves the right to make modifications to tour arrangements including order of tour activities, hotel and its location if deemed necessary.
Write a Review and earn 200 points. Attach photos to your review and earn 25 points per photo.
Please check the Rewards4Fun Program FAQ for more information.
Tell Us
Alan Atkinson

Great trip!

This was a great trip. We drove from Las Vegas to the Grand Canyon, stayed the night. It was well organised. Jon our tour guide was excellent. He was very knowledgeable about the area we travelled through and very helpful to all the people ...on the tour, nothing seemed to be too much trouble for him.The Grand Canyon is so worth seeing and we had a good amount of time there. There was a choice of camping or staying in a hotel and the hotel we stayed in was nice, clean and the staff were friendly. The town Tusayon was nice as well. I would highly recommend this trip if you want to have a good look at the Canyon and you don't have a lot of time. Read full review

Sharon Small

Fantastic private custom tour of the Grand Canyon

This is the second tour we have taken with Rachel from Bindlestiff Tours and we are already planning our third. This year, our group of 8 did an overnight tenting/ hotel tour of the Grand Canyon. Rachel is incredibly knowledgeable and accom...modating. She always plans several different scenarios that will suit everyone within your group and contingencies for circumstances such as rain. We left from Las Vegas and on the way stopped at two different mining towns. El Dorado where we enjoyed a guided tour of a no longer functioning mine and the surrounding area; then quirky Oatman, a ghost town where we had fun exploring, amazed at the wild burros roaming throughout and had lunch at a historic inn. At the Grand Canyon we were able to experience both sunrise and sunset. It was a fantastic experience. Some of our group chose to do a short hike down into the Canyon with Rachel while others walked on a path along the rim. As with all of our stops, you never feel rushed and have plenty of time experience everything and to take all the pictures you might want. On way back to Vegas we made one more stop along Rt. 66 in Seligman, Arizona the inspiration for the movie "Cars". If you are planning on doing any sight seeing, Rachel and XXXXX Tours is a must. The van is extremely comfortable and everything for your tour will been well thought out in advance. Tours with Rachel are amazing! Read full review

Jessica

Verified Purchased

08/12/2016

Awsome Trip!!

I loved this trip, it was so great that they pick you up from your hotel. Route 66 was really cool to see & eating at the Roadrunner café was really cool, it's a cute little café. I'm really glad I did this trip, seeing the Grand Canyon was... amazing, & I really liked camping out under the stars. Having 2 days in the canyon is really good cause one day wont be enough time. Thanks Jo for being an awesome tour guide. Read full review

HUNG Chi Wah Teresa

Verified Purchased

08/19/2015

exciting tour

I have the chance to hike in the Grand Canyon. Well planned. Tour guide is caring and experienced.

Elaine King

Verified Purchased

08/12/2012

Great hiking opportunities

I just took this tour and it was amazing, its well worth spending the night here as the drive is 5 hours each way-we though about a one day tour but they only offer 3 hours in the park and that 's definitely not enough time. We got to see ...a once in a lifetime sun rise and sunset and also had a really fun evening with a fun group around the campfire. Our tour guide was really really fun and made a few additional stops which someone else in the group had requested whcih was really nice of him. Excellent gear and brand new bus which was awesome! AMAZING AMAZING AMAZING Read full review
Questions previously answered may have different answers due to many reasons: season (date and year of travel), rates, availability, etc. Please check the Rewards4Fun Program FAQ for more information.
Ask Us
My friend and I want to jion the tour on 15th Nov. Do we have to choose Lodging Upgrade?? BTW, We live in LAS VAGAS.Do you have a pick up location?
11/01/2014 11:46:54
Tours4Fun
11/01/2014 15:10:29
Dear XIAOYI DING,

Currently, 15th of November is available for booking.

Because this date falls within the Winter, you must select the Lodging Upgrade.

Please remark your Las Vegas address when placing your booking online so that we may note this information.

Once your tour is confirmed, you will be instructed to contact the local office prior to the departure date to confirm your pick-up details. You will be advised the nearest hotel pick-up to your address as we do not provide pick-up form residences.

Best Regards,
Timothy
Customer Service Rep
Edit Photo Title & Description
Loading……
1
Why Book with Tours4fun?
Best Price Guarantee
Hand-picked Tours & Activities
24/7 Customer Support