3-Day National Parks Tour From Vegas: Grand Canyon, Zion, Bryce, Antelope Canyon, Lake Powell & Monument Valley (Product Code: 245-6176)
**GUARANTEED DEPARTURES**
| | | | | | | |
| --- | --- | --- | --- | --- | --- | --- |
| | | Standard Hotel | | | | Upgrade Available |
Day 1
Las Vegas - Zion National Park - Bryce National Park
Summary of The Day: Cut by the Virgin River, Zion Canyon is an impressive mix of white, pink and red Navajo sandstone cliffs. Ancient petrified sand dunes towering over 2000 ft above the canyon floor make for an impressive landscape. A photographer's paradise. Zion National Park offers enchanting walks & hikes for every fitness level.

Stroll around the Emerald Pools trail, enjoy the Temple of Sinawava, the Great White Throne and Weeping Rock. Visit the interpretive Human History museum where you can enjoy an entertaining rangers talk on the patio.

After a full afternoon in Zion we head to Bryce Canyon. A giant natural amphitheater created by erosion along the eastern side of the Paunsaugunt Plateau, Bryce is distinctive due to geological structures called hoodoos. These red, orange, and white spires provide spectacular views for park visitors. Bryce Canyon is considered by many to be the most scenically diverse place in the world! Enjoy a BBQ and a fun evening around the campfire with your new friends this evening!

All camping equipment provided. Sandwich style lunch included.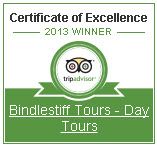 Tripadvisor Certificate of Excellence 2013, 2014 and 2015
Tips:

* Bryce Canyon is seasonal; between Nov 1st and April 15th, this tour will operate in Williams Arizona and Lake Powell Arizona. During winter there will be a visit to Horseshoe Bend and an optional visit to Antelope Canyon.
Hotel:

Camping / Shilo Inn, Best Western or similar
Visiting Attractions
Day 2
Monument Valley - Lake Powell - Antelope Canyon
Summary of The Day: Headed past Lake Powell for an optional visit to Antelope Canyon, we wind our way through more of USA Southwest's spectacular scenery to one of the most iconic locations on the planet.

The backdrop for many famous western movies and home to the Navajo Indians you are in for a real treat today.

Hop on board a 4X4 jeep and enjoy an included Navajo guided tour of Monument Valley. Camp right along the rim and get ready to gaze up at the amazing starry skies. Bag your front row seat to a magnificent sun rise.

All camping equipment provided. Sandwich style lunch included.
Tips:

Lake Powell is a photo stop and Antelope Canyon is an optional 1 hour tour of Antelope Canyon.
Hotel:

Camping / Gouldings Hotel, Kayenta Holiday Inn or similar
Visiting Attractions
Summary of The Day: Saving the best for last! After a brief visit to a traditional Navajo trading post our 3 day our Grand Canyon tour follows the mighty Colorado River through the Painted Desert to one of the seven natural wonders of the world. Take in a bird's eye view on an optional helicopter ride. Stroll along the rim, take a hike into the one of the deepest and most diverse canyons on earth or simply relax in one the rim cafes. Admire the magnificent view before heading back to the bright city lights of Las Vegas.

Sandwich style lunch included.

Tours depart from Stratosphere Hotel North Tour Bus pick-up area 7.15am - 2000 S Las Vegas Blvd, Las Vegas, NV 89104. Please call your local provider to confirm the exact time and hotel pick-up location 7 days prior to departure

If you are looking to travel on this tour between Nov 1st and April 6th, please see our Grand Canyon 3 day Winter Tour. 3-Day Bus Tour to Grand Canyon South Rim, Zion, Antelope Canyon, Lake Powell & Monument Valley from Las Vegas (Winter Tour).

Passengers can EXTEND their amazing journey by upgrading with one of our optional tours for this route!
Optional Tour Upgrade: Wild West Ghost Town Itinerary (Departs every Saturday!)
Optional Tour Upgrade: Death Valley Tour Itinerary (Departs every Friday and Sunday!)

Please leave us your preferred departure date for the optional tours when booking. We cannot guarantee your preferred departure date can match for your 3 day tour. We will contact local operator to schedule your preferred date. Please understand we can only offer 2-night accommodations.
Tips:

Meals: Light breakfast provided if camping; sandwich-style lunch also provided.
Pick-up
Details/Transfers
This tour starts at 7:15am and arrives back to Las Vegas at approx 9pm on day 3. We advise you not to book any flights before 11.30pm if you intend to fly out that night.
Your reservation is always subject to confirmation by email, normally within one to two business days.
Standard Price/Person By Occupancy
| Adult | Child |
| --- | --- |
| USD $629.98 | USD $629.98 |
*Prices are based on shared room/tent basis, single occupancy is not offered. Single travelers will be paired with another traveler of the same gender.
If you would like to select the upgrade option, it will be $450.00/room:
Solo room for 1 person, if you need to upgrade to a single room, the total tour fee (without tour upgrade) is $1080.00. Please leave us a note in comment section to update the price.
Twin room for 2 persons.
Triple share with two queen beds in one room for 3 persons.
Quad share with two queen beds plus one twin share room for 5 persons.
Please note that rooms in Monument Valley vary from rooms, houses or apartments and may be shared with other travelers on the same tour. All rooms have their own private bathroom. Please note that children aged 7-18 years old with be roomed with parents in a room with 2 queen beds. If your party is a total of 3 or 5 guests, you will be in 1/2 triple rooms with two queen beds in each.
*Adult Age: 7 and older
*Children under 7 years of age are not permitted on this tour.
*Maximum room capacity: 2 people including adult and child/infant.
**GUARANTEED DEPARTURES**
2-night hotel accommodations, either camping or hotel upgrade if chosen
Navajo Guided jeep tour of Monument Valley ($75 Value)
Small groups tour average group size is 14 guests
Entrance to National Parks Grand Canyon, Zion, Bryce Canyon (seasonal) and Monument Valley Tribal Park
Three sandwich lunches, one breakfast (two if camping)
All camping equipment
Airfares or related transportation between your home and departure location
Optional tours (prices may vary depending on availability):
Optional Helicopter flight over the Grand Canyon paid and booked locally ($213-$289)(from 1/1/2018, the price will be $220.00-$350.00)
Optional Antelope Canyon 1 hour tour and booked locally ($28/person)/(from 1/1/2018, the price will be $40.00-$50.00)
Evening meals are not included in the tour price: you may opt to eat at local restaurants or to take part in a group meal. You tour guide will offer you a group BBQ on night one and a traditional Navajo meal on night two. Each is $10-$12 per person and is weather dependent.
Tips for your tour guide or driver($55-$60 is the recommended amount for this tour)
Please offer us your email address when you make a reservation for reconfirmation and important information pertaining to your tour.
If you need to book a flight ticket, we recommend that you please book your flight ticket after you've received your confirmation email for your reservation within one to two business days from us.
Cancellation policy:
Cancellation Made Within-------------------------------------Cancellation Fee
14 or within 14 Days Prior to the Departure Date------------100% of Reservation Cost
15-29 Days Prior to the Departure Date---------------------- 25% of Reservation Cost
30 or More Days Prior to the Departure Date-----------------10% of Reservation Cost
Please do NOT take pictures on the stairway, bring a camera tripod, or climbing on the walls when visiting Antelope Canyon. Make sure to always follow the Native American guide and obey their instructions. Customers who do not comply with these rules will be sent back to bus without refund.
This tour/activity is overseen by a select local operator in the region. Upon booking your tour or activity and after receiving confirmation, you will be issued an e-ticket detailing the local operator's name and contact information. If you require assistance finding a specific tour, please contact us for more information.
1.Immediately after submitting your reservation you will receive a Receipt of Reservation via email.

2. Within one to two business days of submitting your reservation you will receive a confirmation email from us. If you need to book an airline ticket, we recommend that you do so after you receive a confirmation of your tour reservation from us.

3. An E-Ticket will be sent to you via email as soon as details of your reservation are confirmed or your supporting information is received by us. We will provide you with all detailed information about your tour on the E-Ticket. Contact information for local tour provider will be included on E-Ticket for your convenience or re-confirmation purpose if re-confirmation is required.

4. Simply print your E-Ticket and present it with your valid photo ID on the day of your activity to your tour guide. Please remember E-Ticket is your proof of purchase.
- Your purchase does not guarantee confirmation. Your purchase will initiate a reservation process. We will confirm with you via email within one to two business days.

- Prices may vary due to availability. We reserve the right to make price adjustment without prior notice.

- Local tour provider reserves the right to make modifications to tour arrangements including order of tour activities, hotel and its location if deemed necessary.
Write a Review and earn 200 points. Attach photos to your review and earn 25 points per photo.
Please check the Rewards4Fun Program FAQ for more information.
Tell Us
Tell Us
Sign in
to earn points for this review.
Michael S

3 Day Tour

( Verified Purchased )

Just returned from this tour with our 13 year old granddaughter and friend. We were thrilled with the trip. Although there was a lot of driving, necessary to see the sites advertised, Joe our tour leader was an excellent driver and host. We... stayed in hotels for the 2 nights, others camped. Our experience was wonderful. Hotels were better then anticipated. We will rcherish the memories for years to come. Read full review

Hillary O

3 Day Tour

( Verified Purchased )

Short version: loved the trip, tour guide Joe was awesome, camping accommodations were great, food was good, would 100% recommend this trip. Long version: I will admit, I was very nervous to book this trip for several reasons, one being ...that we were using camping equipment provided by the company and also not knowing all the details of the trip. My husband and I took this trip together and had plans to stay in Vegas for 3 nights following the tour, so we had 1 large carry-on bag with our "vegas" things and each of us had a backpack with all of our camping/hiking gear. I was worried we would have too much baggage but it was the perfect amount. The van/bus had a trailer with all the camping supplies and enough for room for storage of the extra luggage. Getting started from the stratosphere was easy. From there, we headed to Zion. The entire tour consists of driving 1-2 hours at a time from place to place. There are plenty of chances for bathroom breaks and time to stretch out. During the drive Joe gave tons of information about the areas we were headed and some fun facts about Vegas, never a dull moment. Once at Zion, we were given a map and a few ideas of short hikes that we could choose from. I will admit we were only allowed a couple hours to hike which was somewhat disappointing but given the short time frame of the trip I completely understand the schedule. After Zion, we headed to Bryce to hike for a couple more hours and then camped about 30 min away from there at a KOA. The camp ground was very nice with good facilities. The camping gear supplied by the tour was clean and easy to use. Dinner the first night was an optional BBQ for $10-12 per person that was very tasty. The next morning we ate a quick breakfast provided by the guide: cereal, muffins, fruit. The next stop was antelope canyon (my personal favorite). It was an extra $30 per person and worth every penny. After that we drove through the Navajo land and took a 4x4 trip through monument valley guided by a Navajo. It was very informational and one of the most memorable parts of the trip. We set up camp at this same location overlooking the valley and the "mittens". After that we spent another $10-12 per person to eat "Navajo tacos" at a local's home. Amazing!The next day we were off to the south rim of the Grand Canyon which involved a 3 hr ride there and from Grand Canyon back to Vegas another 5 hrs. We had about 3-4 hours to walk around the rim of the canyon, not much hiking inside the canyon. This trip is one I will never forget. I really have no complaints! If you are wanting to see everything in a short amount of time, it's the one for you. If you want more time to hike check out their 7 day tour. Thanks bindlestiff and Joe! We loved every minute :) Read full review

Mary K.

3 Day Tour

( Verified Purchased )

The tour was great and so was Mike our guide. The landscape was amazing and Mike was constantly giving us great info about all the landmarks we passed. The only negatives I am able to come with were that the tents were a bit dusty which agg...ravated my allergies and the dinner was not included in the price. For the price however, it was a great tour which packed a lot into 3 days. Read full review

SarahL

3 Day Tour

( Verified Purchased )

The tour was great and Mike was a fantastic tour guide! Bryce Canyon and Antelope Canyon are the most beautiful landscapes I have ever seen. I am not huge on camping but the campgrounds were very clean and despite a little rain, camping was... a pleasant experience (especially the sunrise over Monument Valley). Mike was very knowledgeable, helpful and extremely well organized. He made the trip a lot of fun for everyone. This tour works well for solo travelers too: tents are for two and there were plenty of solo travelers to share a tent with. Plus, Bindlestiff is one of the few companies that don't penalize / charge extra for solo travelers. Overall, it was a fantastic trip. Definitely recommended! Read full review

David

3 Day tour

( Verified Purchased )

What a great experience! Mike Brown guided and drove our group with expertise around some of the best scenery in the South West.The hotel accomodation was great and timetable, while busy, was managed very well. the whole tour went off witho...ut a hassle. Very pleased with the time spent with this tour. Read full review
Edit Photo Title & Description
Loading……
Got a Question? Don't Hesitate.
1.866.933.7368 / 1.626.389.8668
Click here
Have our experienced tour consultant give you a call.
Why Book with Tours4Fun?
Best Price Guaranteed
Hand-picked Tours & Activities
Customer Satisfaction
Customer care available 24/7