3-Day National Parks Tour From Vegas: Grand Canyon, Zion, Bryce, Antelope Canyon, Lake Powell & Monument Valley - Winter
Product Code: 245-25651
Highlights
• Helicopter over the Grand Canyon (optional)

• Native American lands 4×4 jeep tour Monument Valley

• Cowboys and Indians across Utah's Wild Wild West

• Hiking in Zion and Grand Canyon National Parks

Experience:

UNESCO, Nature

Visit locations designated as World Heritage Sites by the United Nations; Get in touch with Mother Earth
Style:

Escorted

Tour director/guided escort is available from the beginning to the end of the vacation
Group Type:

Small group

Take an intimate and semi-private trip with a small group
Activity Level:

Moderate

Designed for travelers in good health who are comfortable with light walking or hiking
Quality:

Standard

Travel with professional guides, enjoy more time at attractions and/or stay at comfortable accommodations
The Grand Canyon National Park South Rim
Hotel: Red Feather Lodge Grand Canyon or similar
Driving through the mighty Mojave Desert today takes us via Route 66 to the Grand Canyon National Park South Rim to one of the seven natural wonders of the world! Stop at the Hoover Dam for a photo stop along the way. Take in a bird's eye view on an optional helicopter ride, stroll along the rim, take a hike into the one of the deepest and most diverse canyons on earth or simply relax in one the rim cafes and admire the magnificent view at sunset.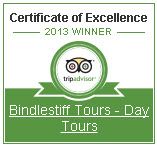 Tripadvisor Certificate of Excellence 2013, 2014 and 2015
Tips:

Hotels you stay may change depending on availability. But it will be provided in a 3 star hotel including breakfast.
Visiting Attractions
Monument Valley
Hotel: Quality Inn Lake Powell or similar
After a brief visit to a traditional Navajo trading post we follow the mighty Colorado River through the Painted Desert and wind our way through more of USA Southwest's spectacular scenery to one of the most iconic locations on the planet. The backdrop for many famous western movies and home to the Navajo Indians you are in for a real treat today. Hop onboard a 4X4 jeep and enjoy a fantastic included Navajo guided tour of Monument Valley.

This afternoon we head to Page Arizona and Lake Powell for our night stop
Tips:

Hotels you stay may change depending on availability. But it will be provided in a 3 star hotel including breakfast.
Visiting Attractions
Zion National Park
We visit Horseshoe Bend this morning or Antelope Canyon before a photo stop at Lake Powell and head to Utah's finest National Park.



Cut by the Virgin River, Zion Canyon is an impressive mix of white, pink and red Navajo sandstone cliffs. Ancient petrified sand dunes towering over 2000ft above the canyon floor make for an impressive landscape and a photographer's paradise. Zion National Park offers enchanting walks & hikes for every fitness level.

There are plenty of walking opportunities here in this picturesque winter wonderland. Enjoy and hike up to emerald pools or if you are feeling less adventurous, stroll around the valley or the Pa'rus trail., Marvell at fantastic view of the Great White Throne, Weeping Rock and visit the interpretive Human History museum where you can enjoy an entertaining rangers talk.

This tour is offered between Nov 1st and April 6th. If you are looking to travel outside of those dates, please see our Grand Canyon 3 day summer tour.
Tips:

Sandwich style lunch provided.
Visiting Attractions
| | | |
| --- | --- | --- |
| | Please note that order of day-to-day itinerary is adjustable depending on tour start day. | |
Search for your nearest pickup point
Package Includes
Complimentary pick-up and drop-off
2-night hotel accommodations
Professional tour guide
Navajo Guided jeep tour of Monument Valley ($75 Value)
All private transportation in a modern 13 passenger tour bus
Entrance to tour of Grand Canyon National Park South Rim
1 lite breakfast, 3 deli style lunches
Package Excludes
Airfares or related transportation between your home and departure location
Optional tours (prices may vary depending on availability):
- Optional Helicopter flight over the Grand Canyon paid and booked locally (30 mins $244/person- 55 mins $295/person) book with your tour guide/(from 1/1/2018, the price will be $220.00-$350.00)
- Optional Antelope Canyon Tour $26-$40 per person. Book with your tour guide/(from 1/1/2018, the price will be $40.00-$50.00).
Tips for your tour guide or driver($50-$60/person recommended)
Please contact local operater to reconfirm your tour 7 days before your tour begins. We advise you not to book any flights before 11:00pm if you intend to fly out that night.
Please be prepared to show your travel insurance and have your passport ready for inspection before departure.
Please offer us your email address when you make a reservation for reconfirmation and important information pertaining to your tour.
If you need to book a flight ticket, we recommend that you please book your flight ticket after you've received your confirmation email for your reservation within one to two business days from us.
Please be prepared to show your travel insurance and have your passport ready for inspection before departure.
Cancellation policy:
Cancellation Made Within-------------------------------------Cancellation Fee
9 or within 9 Days Prior to the Departure Date------------100% of Reservation Cost
10-14 Days Prior to the Departure Date-----------------------50% of Reservation Cost
15-29 Days Prior to the Departure Date---------------------- 25% of Reservation Cost
30 or More Days Prior to the Departure Date-----------------10% of Reservation Cost
In the rare instance your tour does not achieve the minimum number required to operate, your local agency reserves the right to cancel the tour within a minimum of 5 days' notice. The minimum numbers required to run a tour are 6 passengers. We strongly advise you not to incur any nonrefundable expenses such as flights until you have received confirmation from us that your tour is running.
Please do NOT take pictures on the stairway, bring a camera tripod, or climbing on the walls when visiting Antelope Canyon. Make sure to always follow the Native American guide and obey their instructions. Customers who do not comply with these rules will be sent back to bus without refund.
This tour/activity is overseen by a select local operator in the region. Upon booking your tour or activity and after receiving confirmation, you will be issued an e-ticket detailing the local operator's name and contact information. If you require assistance finding a specific tour, please contact us for more information.
Pricing Info
Your reservation is always subject to confirmation by email, normally within one to two business days.
*Prices are based on shared room/tent basis. Single travelers will be paired with another same sex client in a twin share room. If you have 3 person when booking, you can choose 2 room. One person in one room doesn't mean he will stay in a room or tent by himself. He will be sharing it with another guest of the same sex. Price is per person
*Adult Age: 7 and older.
*Children under 7 years of age are not permitted on this tour.
*Maximum room capacity: 2 people.
Reservation Info
1.Immediately after submitting your reservation you will receive a Receipt of Reservation via email.

2. Within one to two business days of submitting your reservation you will receive a confirmation email from us. If you need to book an airline ticket, we recommend that you do so after you receive a confirmation of your tour reservation from us.

3. An E-Ticket will be sent to you via email as soon as details of your reservation are confirmed or your supporting information is received by us. We will provide you with all detailed information about your tour on the E-Ticket. Contact information for local tour provider will be included on E-Ticket for your convenience or re-confirmation purpose if re-confirmation is required.

4. Simply print your E-Ticket and present it with your valid photo ID on the day of your activity to your tour guide. Please remember E-Ticket is your proof of purchase.
Terms and Conditions
- Your purchase does not guarantee confirmation. Your purchase will initiate a reservation process. We will confirm with you via email within one to two business days.

- Prices may vary due to availability. We reserve the right to make price adjustment without prior notice.

- Local tour provider reserves the right to make modifications to tour arrangements including order of tour activities, hotel and its location if deemed necessary.
Write a Review and earn 200 points. Attach photos to your review and earn 25 points per photo.
Please check the Rewards4Fun Program FAQ for more information.
Tell Us
David Skerman

Great tour!

Enjoyable 3 day tour. Wonderful scenery. Mike was a great guide. Only myself (David Skerman) and 2 others on this particular tour. Overnight accommodation good. Helicopter flight over Grand Canyon a must do. Monument Valley and the 4WD tour... with Indian Guide amazing. Added the Antelope Canyon tour. Definitely worth it for the scenery. I would highly recommend this tour. Thanks Mike. Read full review

Sina Beike

Perfectly organized 3 Day Tour

I have recently done the 3 Days Winter Tour to the Grand Canyon, Monument Valley, Antelope Canyon, Horseshoe Bend and Zion National Park and can highly recommend it! Mike, our tour guide, did an awesome job, giving us great insights about t...he places we visited. Thanks to his fun stories and the beautiful scenery also the drives between the places flew by quickly. Our group, consistent both of families and individual travellers, bonded very well thanks to the great and relaxed atmosphere Mike created. The trip was well-organized, non-rushed and a great way to see the highlights around Las Vegas with a small group! Read full review

Maureen

Best Winter National Parks Tour from Vegas

I did this tour with my husband and 2 adult sons, in the final week of a 5 week trip to USA from Australia. It was definitely a highlight of our time in USA; not only were the sites remarkable, but our tour guide Mike (Shaggy) was the best-... funny, knowledgeable, enthusiastic, endearing. He also punched above his weight in doing everything possible to accommodate and care for my son when he was ill. We all fully recommend this tour- brilliant. Read full review

Maureen Rischmueller

Fabulous!!!

We travelled with our 2 adult sons. There were only 4 others on the tour. Our tour guide Mike was incredibly knowledgeable, funny, and friendly. He went beyond his job description in looking out for our son when he became ill. We highly rec...ommend the tour which was amazing. We were lucky with the weather in mid-January, sunny skies and low numbers of other tourists. Read full review

Amber Jain

Great Trip

It was a great trip! We were a group of 10 people, in a comfortable van. Day one covered Grand Canyon, day 2 Monument Valley, and day 3 Antelope Canyons and Zion. The visits generally did not felt rushed, providing opportunities not only to... take pics, but to take a breather and relax. I should further add that our tour guide Mike made this trip much better than just a good trip. He was contagiously happy and a tourist at heart! Read full review
Edit Photo Title & Description
Loading……
2
Why Book with Tours4fun?
Best Price Guarantee
Hand-picked Tours & Activities
24/7 Customer Support