7-Day Southwest Highlights National Parks Camping Tour
Product Code: 245-6171
Highlights
• Enjoy our overnight adventure in iconic Monument Valley.
• Experience the real Wild Wild West
• Immerse yourselves in the amazing Utah landscapes of Zion and Bryce.
• Stare into the mysterious depths of the Grand Canyon before heading back to fabulous Las Vegas for some serious party time!
Tour Type:
Adventure/Activities
Experience:

UNESCO, Nature, Adventure

Visit locations designated as World Heritage Sites by the United Nations; Get in touch with Mother Earth; Explore the world with an active and adrenaline pumping tour
Style:

Escorted

Tour director/guided escort is available from the beginning to the end of the vacation
Group Type:

Small group

Take an intimate and semi-private trip with a small group
Activity Level:

Moderate, Strenuous

Designed for travelers in good health who are comfortable with light walking or hiking; Activities are geared towards experienced and fit travelers
Quality:

Camping, Standard

Each night you'll unroll your bedroll and sleep beneath the stars; Travel with professional guides, enjoy more time at attractions and/or stay at comfortable accommodations
Accessibility:

Not accessible

Tour does not have wheelchair accessible vehicles/attractions or allow service dogs
Las Vegas - Zion National Park
Hotel: Camping in Zion National Park or similar
Leaving the bright lights of Las Vegas behind us for awhile, we head out to Utah's finest national park - Zion. Massive canyon walls and red sandstone cliffs ascend toward a brilliant blue sky. Challenge yourself to what's considered the best half-day hike in the Southwest by hiking a narrow ridge line to Angels Landing.



Take it easy exploring the pristine Emerald pools or enjoy a river hike deep in the narrows before enjoying a BBQ back at camp during the evening.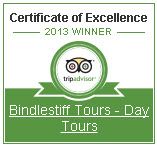 Tripadvisor Certificate of Excellence 2013, 2014 and 2015
Visiting Attractions
Zion National Park - Bryce Canyon National Park
Hotel: Camping in Rubys Campground Bryce National Park or similar
A short drive today takes us to an elevation of 8,000 feet into Bryce National Park. Take a stroll along the rim and marvel at the unique sandstone spires, or hoodoos, that rise dramatically from the natural amphitheater. Hike down into the hoodoos for an upclose and personal experience with this fascinating landscape.

A soak in the outdoor hot tub back at camp will ease those hiking muscles and a night around the campfire will end this day nicely.


Visiting Attractions
Bryce Canyon National Park - Arches National Park
Hotel: Camping in Moab or similar
Explore this stunning landscape in a guided sunset hummer tour or hang of a sandstone cliff on one of our optional canyoneering adventures! Visit Arches National Park home to over 2000 arches for a hike up to Delicate Arch.
Visiting Attractions
Arches National Park- Canyonlands National Park
Hotel: Camping in Moab or similar
Enjoy walks in Canyonlands National Park where the Green river meets the Colorado in some of the most spectacular scenery the southwest has to offer. Swap tales of Butch Cassidy and the Sundance Kid who used the canyons to hide from the law in the late 1800's, visit the local town and enjoy Utah's greatest adventure capital.
Visiting Attractions
Canyonlands National Park - Monument Valley
Hotel: Camping in Monument Valley or similar
Headed south we wind out way through more of USA Southwest's spectacular scenery to one of the most iconic locations on the planet. The background for many famous Western movies and home to the Navajo Indians, you are in for a real treat today. Hop onboard a 4X4 Jeep and enjoy an included Navajo guided tour of Monument Valley. Camp right along the rim, get ready to gaze up at the amazing starry skies and get your front row seat to a magnificent sunrise.
Visiting Attractions
Monument Valley - Grand Canyon
Hotel: Camping in Grand Canyon National Park or similar
After a brief visit to a Navajo trading post, we follow the mighty Colorado River through the Painted Desert to one of the Seven Natural Wonders of the World!

Take in a bird's eye view on an optional helicopter ride, stroll along the rim at sunset, take a hike into the one of the deepest and most diverse canyons on earth or simply relax in one the rim cafes to admire the view before one last cookout and campfire.
Tips:

Enjoy an optional visit to the world's most famous slot canyon, Antelope Canyon, this morning (admission not included) followed by a scenic walk to view Horseshoe Bend before heading to the Grand Canyon.
Visiting Attractions
Grand Canyon - Route 66 - Las Vegas
We get our kicks at Route 66 and arrive back in Sin City in plenty of time to relax poolside.

Combine this tour with our award winning 7 day Yellowstone Rocky Mountain Explorer Tour for an epic 14 day USA adventure!
Visiting Attractions
| | | |
| --- | --- | --- |
| | Please note that order of day-to-day itinerary is adjustable depending on tour start day. | |
Search for your nearest pickup point
Package Includes
6-night accommodations (Composed of camping)
Professional tour Leader
Navajo Guided jeep tour of Monument Valley
All private transportation in a modern and comfortable 14 passenger tour bus
Entrance to National Parks Grand Canyon, Zion, Bryce Canyon, Arches, Canyonlands and Monument Valley Tribal Park
All camping equipment (just bring your sleeping bag)
Package Excludes
Airfares or related transportation between your home and departure location
Local payment of $70 to cover meals while camping. This payment is payable to your tour leader at the time of departure. covers 6 breakfasts, 7 lunches, 6 evening meals.
Optional activities: Booked and paid locally with tour guide
- Grand Canyon Helicopter flight $200-$295(from 1/1/2018, the price will be $220-$350)
- Slick Rock Sunset Hummer Tour $80-$100(not available in 2018)
- Canyoneering $100-$140(not available in 2018)
- Antelope Canyon Tour $44/person(from 1/1/2018, the price will be $40-$50)
Tour Leader tips not included-we recommend $70-$90 per person.
Meals are cooked in campas a communal effort. You will be expected to help.
Please include your email address when you make your reservation for re-confirmation and important information pertaining to your tour.
Cancellation policy:
Cancellation Made Within-------------------------------------Cancellation Fee
58 or within 58 Days Prior to Departure Date------------100% of Reservation Cost
59 or More Days Prior to Departure Date-----------------10% of Reservation Cost
In the rare instance your tour does not achieve the minimum number required to run, local agency reserves the right to cancel the tour with a minimum of 54 days' notice. The minimum numbers required to run a tour are 6 passengers. We strongly advise you not to incur any non refundable expenses such as flights until you have received confirmation from us that your tour is running.
This tour/activity is overseen by a select local operator in the region. Upon booking your tour or activity and after receiving confirmation, you will be issued an e-ticket detailing the local operator's name and contact information. If you require assistance finding a specific tour, please contact us for more information.
Pricing Info
Your reservation is always subject to confirmation by email, normally within one to two business days.
*Price based on shared tent basis. Single occupancy is not offered. Single travelers will be paired with another traveler of the same sex.
*Maximum camping capacity is two people including adult and child in each tent.

*The same rates apply to children and adults.
*Children under 7 years of age cannot partake in this tour.
Reservation Info
1.Immediately after submitting your reservation you will receive a Receipt of Reservation via email.

2. Within one to two business days of submitting your reservation you will receive a confirmation email from us. If you need to book an airline ticket, we recommend that you do so after you receive a confirmation of your tour reservation from us.

3. An E-Ticket will be sent to you via email as soon as details of your reservation are confirmed or your supporting information is received by us. We will provide you with all detailed information about your tour on the E-Ticket. Contact information for local tour provider will be included on E-Ticket for your convenience or re-confirmation purpose if re-confirmation is required.

4. Simply print your E-Ticket and present it with your valid photo ID on the day of your activity to your tour guide. Please remember E-Ticket is your proof of purchase.
Terms and Conditions
- Your purchase does not guarantee confirmation. Your purchase will initiate a reservation process. We will confirm with you via email within one to two business days.

- Prices may vary due to availability. We reserve the right to make price adjustment without prior notice.

- Local tour provider reserves the right to make modifications to tour arrangements including order of tour activities, hotel and its location if deemed necessary.
Write a Review and earn 200 points. Attach photos to your review and earn 25 points per photo.
Please check the Rewards4Fun Program FAQ for more information.
Tell Us
Danielle Osborne

Highly recommend

Mike, our tour guide, was very knowledgeable and well organized. Awesome highlights of all the parks. Took this trip with a friend in August, warm during the day but perfectly cool at night - would highly recommend.

Carol Kings

Fabulous tour

In today's busy world it is always easy to complain, however, when a person goes out of their way and demonstrates a commitment to Superior Customer Service, it must not go unnoticed. We had the pleasure of having your tour guide Joel Cl...ark lead our hiking tour group last week. I must say that this company is very fortunate to have such an outstanding employee working for you. Joel was extremely helpful, knowledgeable and accommodating.He went out of his way to ensure that our group had a memorable week together. His attitude shows that he truly enjoys his job!! This world needs more people like Joel who are passionate about their work. We were impressed with his knowledge of history, geology and Indian Culture. His organizational skills combined with his easy manner set our group at ease. Joel's musical talent and his wide range of music satisfied everyone's taste. I thank you for your attention to this matter and ask that you recognize Joel Clark for the good work he is doing, believe me it is not going unnoticed. Read full review

paulo pierra

Best National parks tour from Las Vegas

Group of 6 friends spent 7 days with Bindlestiff tours. Everything was perfectly organized and prepared, all bookings done. Jen, the guide, was amazing - she is very dedicated and open to suggestions, clearly loves her job. She showed a p...erfect knowledge in various areas, the places we visited (Zion, Bryce, Antelope, Monument Valley, Moab), all sorts of general informations ( restaurants, shops , Indian culture, wild life - you name it). Can't find anything negative. Congrats. Read full review

Tessa Millman

Memorable Experience

We (couple) went on the 7 day camping tour - Southwest Highlights. Our tour guide Joel was very informative and answered every question we asked. He went out of his way to make the experience memorable. This tour is excellent value for anyo...ne who enjoys getting into the great outdoors. The small group size (we had 13) means you get a feeling of a personal tour. 7 days flys by very quickly as the tour ensures you get to experience as much as the south west has to offer. Highlights: Antelope Canyon and sunrise at Monument Valley. Read full review

Nina Tran

Wonderful Tour!

This 7 day trip (August 6th-13th) in the Southwest canyons was simply amazing. It was our first experience camping and it will definitely not be the last! The landscapes that surrounded us during our hikes were breathtaking. We often got to... see the sun set behind the mountains, displaying a fantastic range of colors. Among my numerous favorite moments: the time Joel -our guide- took us to Dead horse point where we watched the night fall from a ledge overlooking the vast landscape before us, while listening to him reading some extracts from one of his favorite books, capturing the quiet but captivating beauty of the desert. Another highlight would be the hike in the middle of the hoodoos in Bryce canyon: the warm orange colors are really unique. But every other place was spectacular as well: admiring Zion canyon from a high viewpoint at Angel's landing was totally worth the climbing! We also got to see a few massive arches in Canyonlands, not to mention the impressive landscape in Monument Valley. I especially appreciated the hospitality of the Navajo family who welcomed us into their home to enjoy a traditional taco, while learning more about their culture. I would also recommend the optional activities: Antelope canyon is the ideal place to take artistic pictures; the Hummer tour is awesome for those who like the thrill of a bumpy ride and the helicopter tour allows you to fully realize and admire the majesty of the Grand Canyon. I really want to thank Joel who turned this amazing trip into an unforgettable experience, with his usual good humor. He shared his passion for the desert and the canyons as well as his knowledge of the region in history and geology, which was much appreciated during the car rides. I particularly enjoyed the night when we sat around a campfire, listening to him singing old songs while playing the guitar… Everyone in the group was very friendly and our week was full of memorable moments. I would highly recommend this tour with Bindlestiff and I myself sincerely wish to discover another part of the US with this wonderful company! -- Read full review
Edit Photo Title & Description
Loading……
6
Why Book with Tours4fun?
Best Price Guarantee
Hand-picked Tours & Activities
24/7 Customer Support