Wild West Ghost Town Explorer Day Tour
Product Code: 245-6179
Highlights
•Photo stop at the Hoover Dam

•Visit Chloride Arizona old mining town and Ghost Town

•Visit Oatman Arizona Ghost Town

•WILD WILD WEST Cowboy shoot out show

•Visit a Western Saloon bar

•Included deli style lunch, snacks and water

•Scenic drive through the mighty Mojave Desert

Tour Type:
Adventure/Activities
Experience:

Adventure

Explore the world with an active and adrenaline pumping tour
Our tour departs Sin City for a short drive to the Hoover Dam. This 726 dam holds back the mighty Colorado River. Behind the Hoover Dam you find Lake Mead. A beautiful man made reservoir that is contained within the Black Canyon Walls. Take all the Dam photos you want!



Next we head to the little mining town of Chloride Arizona. This little community has survived the harsh desert environment since the 1860's. Silver and other minerals were mined here for decades. After the mining boom was over, Chloride nearly became a ghost town itself. Today Chloride is home to about 250 residents who are still very proud of their mining history. Browse the antique shops and chat with the locals before you enjoy lunch. Admire many artistic sculptures of this joyful artist's community.

Our next stop takes us for a drive along the iconic Route 66 highway to the small ghost town of Oatman Arizona. The present day population of this ghost town is 150 people and 1 poltergeist. He goes by the name of "Oatie the Ghost" and is believed to be the poor spirit of William Ray Flour, an Irish miner who died behind the Oatman hotel.

Enjoy views of the Black Mountains that surround this one time mining tent camp, photograph the tumbleweeds and the wild burros (donkeys) that freely roam through this town. Have your picture taken along side modern day cowboys and bandits while posing in front of an authentic Route 66 sign and take part in your very own western shoot out!

Time for a drink in the local saloon before we make our way through the Mojave Desert along the Veterans Memorial Highway. This roads cuts straight through beautifully empty desert landscape. It is the perfect way to remember the openness of this part of America before returning to the big city lights and the glitz & glamour of Las Vegas.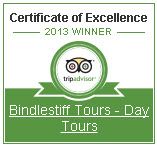 Tripadvisor Certificate of Excellence 2013, 2014 and 2015
Visiting Attractions
Pick-up
Details/Transfers
This tour offers pick up service from hotels on the Las Vegas strip; please call local provider to confirm their exact time and hotel pick up 24 hours prior to departure.
Package Includes
Complimentary pick-up and drop-off from your hotel in Las Vegas
Sandwich Lunch (Veg. Option Available, please request in comments)
Professional tour Leader
Lite snacks and water
Park Entry
Package Excludes
Airfares or related transportation between your home and Las Vegas airport or chosen pickup location
All personal expenses
Tips for your tour guide or driver(15% - 20% of package fee)
Please offer us your email address when you make reservation for reconfirmation and important information pertaining to your tour.
Please wear layered clothing and comfortable shoes
Cancellation policy:
Cancellation Made Within-------------------------------------Cancellation Fee
7 or within 7 Days Prior to Departure Date------------100% of Reservation Cost
8-14 Days Prior to Departure Date-----------------------50% of Reservation Cost
15-29 Days Prior to Departure Date---------------------- 25% of Reservation Cost
30 or More Days Prior to Departure Date-----------------10% of Reservation Cost
In the rare instance your tour does not achieve the minimum number required to run, local agency reserves the right to cancel the tour with a notice. The minimum numbers required to run a tour are 4 passengers. We strongly advise you not to incur any non refundable expenses such as flights until you have received confirmation from us that your tour is running.
This tour/activity is overseen by a select local operator in the region. Upon booking your tour or activity and after receiving confirmation, you will be issued an e-ticket detailing the local operator's name and contact information. If you require assistance finding a specific tour, please contact us for more information.
Pricing Info
Your reservation is always subject to confirmation by email, normally within one to two business days.
Depending on the size of the tour group, this tour will be conducted on a SUV, 13 Passenger Mini-Bus or 9 Passenger Mini-Bus
*Adult: 7 and older.
*We CANNOT take children under 7 years of age.
Reservation Info
1.Immediately after submitting your reservation you will receive a Receipt of Reservation via email.

2. Within one to two business days of submitting your reservation you will receive a confirmation email from us. If you need to book an airline ticket, we recommend that you do so after you receive a confirmation of your tour reservation from us.

3. An E-Ticket will be sent to you via email as soon as details of your reservation are confirmed or your supporting information is received by us. We will provide you with all detailed information about your tour on the E-Ticket. Contact information for local tour provider will be included on E-Ticket for your convenience or re-confirmation purpose if re-confirmation is required.

4. Simply print your E-Ticket and present it with your valid photo ID on the day of your activity to your tour guide. Please remember E-Ticket is your proof of purchase.
Terms and Conditions
- Your purchase does not guarantee confirmation. Your purchase will initiate a reservation process. We will confirm with you via email within one to two business days.

- Prices may vary due to availability. We reserve the right to make price adjustment without prior notice.

- Local tour provider reserves the right to make modifications to tour arrangements including order of tour activities, hotel and its location if deemed necessary.
Write a Review and earn 200 points. Attach photos to your review and earn 25 points per photo.
Please check the Rewards4Fun Program FAQ for more information.
Tell Us
Emmaline Maddison

Excellent

Excellent great trip, had the tour guide all to ourselves and it turned out to be one of the best trips we have done. Was such fun and we where made to feel at ease with the tour guide Michael who was entertaining and fun

Luigi Cascone

Outstanding Tour

I joined this one day tour and I have really enjoyed each and every moment of it. Mike, the tour guide, was absolutely outstanding

Rebecca Stockwell

Excellent Tour

As a travel agent out here in Vegas, I do a lot of tours and this one is one of my favorites. I did the Ghost town Explorer, such a great tour. Mike was very knowledgeable and fun on our trip. Would 100 % do this tour again. Also I might ad...d, I'm very fond of the name, Bindlestiff, perfect name for a tour company. Read full review

Chrissy Burkitt

Highly Recommend!

We chose to go on the ghost town day trip. There were only 5 of us in total, which I don't understand as I couldn't find any other tour companies offering this. We loved it and would highly recommend it. Jon/John was our guide. He was a ver...y polite, laid back guy with unbelievable knowledge of the area. First stop was a strange town called Chloride- off the tourist track and we enjoyed talking to several locals and found out more about it. Next town was okham - just as we imagined it but busier! Loved feeding the wild Burros that came into town, watched a shoot out and brought some lovely leather belts. Last town was Eldorado good mine. My first impressions was 'what are we doing here' it was rather strange but once out exploring it was definitely our favourite. Just sitting on the porch taking in the ambience of the past was wonderful. The scenery and history of the areas was the real Wild West. We even ventured onto a small part of Route 66! Take the trip it won't disappoint Read full review

Geoff

Verified Purchased

05/22/2017

Ghost Town

I'd just like to let you know that we had a very good tour experience with our tour guide - Joel Clark - on our recent ghost town tour through Bindlestiff tours from Las Vegas. Thank you very much
Questions previously answered may have different answers due to many reasons: season (date and year of travel), rates, availability, etc. Please check the Rewards4Fun Program FAQ for more information.
Ask Us
Edit Photo Title & Description
Loading……
0
Why Book with Tours4fun?
Best Price Guarantee
Hand-picked Tours & Activities
24/7 Customer Support