Highlights
• See the best of New York City!
• Times Square
• Empire State Building
• Harlem
• ST. John The Divine
• Apollo Theater
• Grand Central Terminal
• NY Public Library
• Bryant Park
• Chrysler Building
• 5th Avenue
• Central Park
Tour Type:
Sightseeing Tours
The NY See the Best Tour is back and better than ever!

Empire State Building — Harlem — St. John The Divine — Grand Central Terminal
This Uptown and Midtown Tour will show you the BEST buildings in the United States. Biggest Cathedral, Best Skyscraper, Best Library, Hippest Theater, Best Train Station, Best Ceiling, Best Observation Deck, Greenest Skyscraper, and Shiniest Roof. Of course, each of these attractions has its own history, and your licensed New York City Tour Guide will tell you all about it during your tour.

We asked our customers how we could create a fantastic tour with the top attractions that they want to see. They said they want to see the best sights in NYC, so we did it.

This new and improved tour will show you the BEST sites in NYC:
• We'll take you to the top of the Empire State Building, without making you wait in all the lines (a $50 value)
• You will also see the grandeur that is Grand Central Terminal, the most impressive train station in the United States. You won't believe the ceiling.
• We'll also take you Uptown, where we will stop to see the largest cathedral in the United States (St. John the Divine) and the Apollo Theater in Harlem.
• After driving through Harlem, we will come down Museum Mile for great views of Central Park, the 5th Avenue luxury homes, and drive by the Apple Store, FAO Schwartz, and the Plaza Hotel.
• You will walk past Bryant Park and the New York Public Library, with its famed lion statues. When possible, we will pop inside for a peek.
• We will see the third tallest building in NYC, at One Bryant Park, one of the "greenest" skyscrapers in the United States.

This is a great tour that will show you the most amazing buildings in New York City from the ground, and then give you breathtaking views of them from the Empire State Building Observation Deck. The only better way to see them is on a Helicopter Tour.

Experience all of the following attractions on our NY See The Best! Tour:
• TIMES SQUARE
• EMPIRE STATE BUILDING
• HARLEM
• ST. JOHN THE DIVINE
• APOLLO THEATER
• GRAND CENTRAL TERMINAL
• NY PUBLIC LIBRARY
• BRYANT PARK
• ONE BRYANT PARK TOWER
• CHRYSLER BUILDING
• 5TH AVENUE
• MUSEUM MILE
• CENTRAL PARK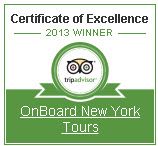 Tripadvisor Certificate of Excellence 2013
Search for your nearest pickup point
Package Includes
Complimentary pick-up and drop-off to chosen location (See meeting point)
Mini-bus assigned
Professional tour escort
Package Excludes
Airfares or related transportation between your home and NY airport or chosen pickup location
All personal expenses including hotel room service and meals; however, you have the option to pay for meals that tour guide arranges
Tip for tour guide
Once purchased, the tour is non-refundable.
This tour/activity is overseen by a select local operator in the region. Upon booking your tour or activity and after receiving confirmation, you will be issued an e-ticket detailing the local operator's name and contact information. If you require assistance finding a specific tour, please contact us for more information.
Pricing Info
Your reservation is always subject to confirmation by email, normally within one to two business days.
*Adult age: 13 and older
*Child age: 12 and younger
*Infants under 2 join the tour for free as long as they sit on the lap of the adults.
Reservation Info
1.Immediately after submitting your reservation you will receive a Receipt of Reservation via email.

2. Within one to two business days of submitting your reservation you will receive a confirmation email from us. If you need to book an airline ticket, we recommend that you do so after you receive a confirmation of your tour reservation from us.

3. An E-Ticket will be sent to you via email as soon as details of your reservation are confirmed or your supporting information is received by us. We will provide you with all detailed information about your tour on the E-Ticket. Contact information for local tour provider will be included on E-Ticket for your convenience or re-confirmation purpose if re-confirmation is required.

4. Simply print your E-Ticket and present it with your valid photo ID on the day of your activity to your tour guide. Please remember E-Ticket is your proof of purchase.
Terms and Conditions
- Your purchase does not guarantee confirmation. Your purchase will initiate a reservation process. We will confirm with you via email within one to two business days.

- Prices may vary due to availability. We reserve the right to make price adjustment without prior notice.

- Local tour provider reserves the right to make modifications to tour arrangements including order of tour activities, hotel and its location if deemed necessary.
Write a Review and earn 200 points. Attach photos to your review and earn 25 points per photo.
Please check the Rewards4Fun Program FAQ for more information.
Tell Us
Diana

Verified Purchased

08/22/2011

I will recommend this to all of my friends that plan a trip to NYC. Great job!

Wow! That's all I can say about the Tour that my friends and I took. Our guide was Randy Powell. He was very knowledgeable about the history of NYC as well as current events and the architecture of the city. His stories were enthralling. We... visited many sites that were on our list of "things to do". I can't believe we were able to do so much in that one tour. It is really a fantastic value. Not to mention the convenience of being driven right to the front door of each location. Read full review

Margaret Dean

Verified Purchased

08/22/2011

Great Experience

We recently enjoyed a wonderful tour with Robert as our guide. My children (ages 10, 15, 18, and 18) were captivated by the sights and insights provided. Thanks for a great NYC experience.

Sheena Horton

Verified Purchased

04/14/2011

What a great tour

Nothing was to much trouble for our guide Dave who was very informative and helpful for the duration of the tour. His uncanny resemblance to Robert Di Nero added to the experience. Forget the double decker buses and see New York in comfort ...and style. Thanks David and Tours4Fun! Read full review
Questions previously answered may have different answers due to many reasons: season (date and year of travel), rates, availability, etc. Please check the Rewards4Fun Program FAQ for more information.
Ask Us
Edit Photo Title & Description
Loading……
0
Ask Our Experts
Destination Expert of North America
Miriam Garcia
Los Angeles, United States
Customize This Tour For Me
Why Book with Tours4fun?
Best Price Guarantee
Hand-picked Tours & Activities
24/7 Customer Support