Grand Canyon National Park Private Fully Customizable Tour
Product Code: 245-6181
Highlights
• Grand Canyon
• Las Vegas
• National Geographic Center
• Hoover Dam
• Route 66
Las Vegas - Grand Canyon South Rim
Make the most of your Grand Canyon South Rim visit on our fun and personalized tour. Hoover Dam, Route 66 and lunch included. Give yourself time to enjoy this Mighty Canyon, stroll along the rim, hike into the canyon, enjoy rim side cafes, helicopter rides!

Our first stop is the Hoover Dam, marvel at its sheer size and grab a photo before journeying to the birthplace of Historic Route 66. Get your kicks and let's go!

Next we'll arrive at the main event, the majestic Grand Canyon! Take in a bird's eye view on an optional helicopter ride, stroll along the rim, watch the IMAX movie, take a hike into the one of the deepest and most diverse canyons on earth or simply relax in one the rim cafes and admire the magnificent view. Dine in style on the rim of the canyon with our delicious included packed lunch giving you more time to enjoy the views.

We head back to Las Vegas arriving at approximately 9 pm after a full afternoon in the park.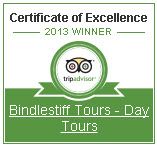 Tripadvisor Certificate of Excellence 2013, 2014 and 2015
Tips:

This tour offers pick up service from hotels on the Las Vegas strip, please call local provider to confirm their exact time and hotel pick up 24 hours prior to departure.
Visiting Attractions
Package Includes
Complimentary pick-up and drop-off from your hotel in Las Vegas
Sandwich Lunch (Veg. Option Available, please request in comments)
Professional tour Leader
Lite snacks and water
Park Entry
Package Excludes
Airfares or related transportation between your home and departure location
Optional tours (Prices may vary depending on availability.):
-Helicopter flight over the Grand Canyon $160-$280
-IMAX Movie at Grand Canyon
Service fee for your tour guide or driver
Please offer us your email address when you make reservation for reconfirmation and important information pertaining to your tour.
If you need to book air ticket, we recommend that you please book your air ticket after you receive confirmation email for your reservation within one to two business days from us.
Cancellation policy:
Cancellation Made Within-------------------------------------Cancellation Fee
7 or within 7 Days Prior to Departure Date------------100% of Reservation Cost
8-14 Days Prior to Departure Date-----------------------50% of Reservation Cost
15-29 Days Prior to Departure Date---------------------- 25% of Reservation Cost
30 or More Days Prior to Departure Date-----------------10% of Reservation Cost
In the rare instance your tour does not achieve the minimum number required to run, local agency reserves the right to cancel the tour with a notice. The minimum numbers required to run a tour are 4 passengers. We strongly advise you not to incur any non refundable expenses such as flights until you have received confirmation from us that your tour is running.
This tour/activity is overseen by a select local operator in the region. Upon booking your tour or activity and after receiving confirmation, you will be issued an e-ticket detailing the local operator's name and contact information. If you require assistance finding a specific tour, please contact us for more information.
Pricing Info
Your reservation is always subject to confirmation by email, normally within one to two business days.
Depending on the size of the tour group, this tour will be conducted on a SUV, 13 Passenger Mini-Bus or 9 Passenger Mini-Bus
*Price is now per group of up to 5 guests. If there are more than 5 guests booking the tour, please contact our service team to adjust the price for you.
*Adult: 5 and older.
*We CANNOT take children under 5 years of age.
Reservation Info
1.Immediately after submitting your reservation you will receive a Receipt of Reservation via email.

2. Within one to two business days of submitting your reservation you will receive a confirmation email from us. If you need to book an airline ticket, we recommend that you do so after you receive a confirmation of your tour reservation from us.

3. An E-Ticket will be sent to you via email as soon as details of your reservation are confirmed or your supporting information is received by us. We will provide you with all detailed information about your tour on the E-Ticket. Contact information for local tour provider will be included on E-Ticket for your convenience or re-confirmation purpose if re-confirmation is required.

4. Simply print your E-Ticket and present it with your valid photo ID on the day of your activity to your tour guide. Please remember E-Ticket is your proof of purchase.
Terms and Conditions
- Your purchase does not guarantee confirmation. Your purchase will initiate a reservation process. We will confirm with you via email within one to two business days.

- Prices may vary due to availability. We reserve the right to make price adjustment without prior notice.

- Local tour provider reserves the right to make modifications to tour arrangements including order of tour activities, hotel and its location if deemed necessary.
Write a Review and earn 200 points. Attach photos to your review and earn 25 points per photo.
Please check the Rewards4Fun Program FAQ for more information.
Tell Us
Carol Hubert

Well worth the trip!

While staying in Las Vegas we went for the day to the Grand Canyon our guide John was amazing he give us lots of information while on our 5hour trip to the Canyon a very long day but well worth it .

Debbie

Verified Purchased

05/05/2017

Grand Canyon Day Trip

Fantastic day trip to south of Canyon. We did a private tour for a family of six, our tour guide Mike Brown was great and had many interesting facts and stories. We were able to stop for photos along the way and yummy lunch provided. Fun an...d memorable experience. Read full review

Elizabeth Hardie

Verified Purchased

02/16/2017

Snowy Grand Canyon Tour

This is one of the best tours I have been on. Mike was not only highly knowledgeable he was friendly and funny. We drove from the strip to the Canyon, which was a long drive but Mike was informative and kept us entertained and interested th...e whole way plus it was Christmas Eve and they still took us on a tour. Once we finally reached the Canyon it started to snow heavily so we only saw the Canyon for all of 3 minutes. Although, even with poor viability it is truly spectacular! We actually got caught in a huge snow storm with gail force winds and was stuck in miles of traffic for hours but Mike made quick and professional decisions making us feel safe and that we were in good hands. Once we were out of the traffic Mike drove us safely home and we all saw Christmas Day (very early morning) in driving towards the strip. It was a real adventure! Mike is an absolute asset to this company! He really made this tour something special and an experience to remember. We were all in Vegas from the UK celebrating my sisters wedding day and Mike will certainly be talked about in years to come when we look back and talk about the Vegas Wedding! Thank you Mike, could not recommend them enough. They are the tour company to choose!!!! Read full review

Laine Carrie

Verified Purchased

12/30/2016

Fantastic Day!

We hired a private mini-bus tour to the Grand Canyon for a group of 9. Our tour guide and driver was Mike. Mike picked us up at our retrospective hotels on time and was friendly and polite from the start. He was extremely informative th...roughout the journey, sharing lots of fun and exciting facts. We had lunch on the bus which was provided by Bindlestiff (a humongous roll which was very tasty). The Grand Canyon was stunning and would highly recommend this tour. If/when I return to Vegas I would definitely book with this company again! Read full review

emjch

Verified Purchased

10/17/2016

Wonderful Private Tour!!

5 women took a day tour to the grand Canyon from Las Vegas.. Well worth the price. We had our own tour guide/ driver in a van for 14 hours. It was beautiful. Our driver Justin knew all the details of the National Park, the canyon , and all ...the attractions, flora and fauna along the way. There was something to do or talk about all day. The lunch was decent. We did a fair amount of walking, but it was not necessary. All 5 of us recommend this highly!!! Read full review
Questions previously answered may have different answers due to many reasons: season (date and year of travel), rates, availability, etc. Please check the Rewards4Fun Program FAQ for more information.
Ask Us
Edit Photo Title & Description
Loading……
0
Why Book with Tours4fun?
Best Price Guarantee
Hand-picked Tours & Activities
24/7 Customer Support