Small Group Tour: Death Valley National Park - Time For Exploration (Product Code: 245-6178)
Day 1
Las Vegas - Death Valley National Park - Las Vegas
Summary of The Day: Visit one of the most unique landscapes on earth!

This full day tour offers spectacular highlights of Death Valley. You will be amazed at the sheer size and astounding natural features in this desolate national treasure.

This journey takes you right to the heart of Death Valley where there will be breathtaking photos opportunities at Dante's View and Zabriskie Point. A stunning scenic drive will lead you to Artist's Pallet and we'll of course stop at Badwater Basin - the lowest point in North America! Take a walk out on the most protected salt flats on earth.

We'll stop at Furnace Creek Visitor Center, the Devil's Golf Course and browse the Death Valley gift shop heading back through the Mohave Desert in time for some good old fashioned Vegas nightlife!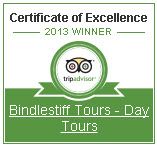 Tripadvisor Certificate of Excellence 2013, 2014 and 2015
Tips:

It departs Las Vegas at 8:00 am and arrives back in Las Vegas at approximately 5:00 pm.
This tour offers pick-up service from hotels on the Las Vegas Strip.
Your reservation is always subject to confirmation by email, normally within one to two business days.
Standard Price
| Adult | Child |
| --- | --- |
| USD $209.00 | USD $209.00 |
Holiday Price/Person By Occupancy
*Adult: 7 and older.
*We CANNOT take children under 7 years of age.
Complimentary pick-up and drop-off from your hotel in Las Vegas
Sandwich Lunch (Veg. Option Available. Please request in Comments section when booking tour.)
Professional tour Leader
Lite snacks and water
Park Entry
Airfares or related transportation between your home and Las Vegas airport or chosen pick-up location
All personal expenses
Please call the provider 24 hours prior to your tour to confirm your pick-up time.
Please offer us your email address when you make your reservation for reconfirmation and important information pertaining to your tour.
Depending on the size of the tour group, this tour will be conducted on a SUV, 13-passenger mini-bus or 9-passenger mini-bus
Please note that temperatures in the months of July and August may exceed 45C/115F. We will provide plenty of drinking water to keep you hydrated. Please bring sunscreen and a sunhat/cap on this tour.
Cancellation policy:
Cancellation Made Within-------------------------------------Cancellation Fee
7 or within 7 Days Prior to Departure Date------------100% of Reservation Cost
8-14 Days Prior to Departure Date-----------------------50% of Reservation Cost
15-29 Days Prior to Departure Date---------------------- 25% of Reservation Cost
30 or More Days Prior to Departure Date-----------------10% of Reservation Cost
In the rare instance your tour does not achieve the minimum number required to run, the local agency reserves the right to cancel the tour with notice. The minimum numbers required to run a tour are 4 passengers. We strongly advise you not to incur any non refundable expenses such as flights until you have received confirmation from us that your tour is running.
1.Immediately after submitting your reservation you will receive a Receipt of Reservation via email.

2. Within one to two business days of submitting your reservation you will receive a confirmation email from us. If you need to book an airline ticket, we recommend that you do so after you receive a confirmation of your tour reservation from us.

3. An E-Ticket will be sent to you via email as soon as details of your reservation are confirmed or your supporting information is received by us. We will provide you with all detailed information about your tour on the E-Ticket. Contact information for local tour provider will be included on E-Ticket for your convenience or re-confirmation purpose if re-confirmation is required.

4. Simply print your E-Ticket and present it with your valid photo ID on the day of your activity to your tour guide. Please remember E-Ticket is your proof of purchase.
- Your purchase does not guarantee confirmation. Your purchase will initiate a reservation process. We will confirm with you via email within one to two business days.

- Prices may vary due to availability. We reserve the right to make price adjustment without prior notice.

- Local tour provider reserves the right to make modifications to tour arrangements including order of tour activities, hotel and its location if deemed necessary.
Write a Review and earn 200 points. Attach photos to your review and earn 25 points per photo.
Please check the Rewards4Fun Program FAQ for more information.
Tell Us
Tell Us
Sign in
to earn points for this review.
Teresita

Lovely Tour

( Verified Purchased )

Lovely. Jen (guide) was very motivated and knowledgeable. She was on time, never made us felt rushed to see the sights and was great.

Gary Coesy

Awesome

( Verified Purchased )

Landscape are beautifuk . Thé guide was good , Funny and take care of us

Gilbert Maurer

Great Experience

( Verified Purchased )

Great experience : - booked the trip the day before and everything works well - guide on time for pickup, "timing under control" - guide very motivated, funny and knowledgeable (btw there are 58 national parks in the US according to goog...le; this was a discussion topic during the trip and one client was very "firm" claiming that there are 48 national parks ;-) - nice places to visit - impressive landscape and geology In summary, a great experience I highly recommend it Read full review

Jeremy

Amazing trip!

( Verified Purchased )

We had a fantastic day - our tour guide, Justin, was just superb. Thanks!

Susan Boynton

Must See!

( Verified Purchased )

Death Valley is a national park must have the one really visited. Our guide Jennie was very knowledgeable and told many interesting things about Vegas in general and Death Valley in particular - among others as Death Valley got its name. Ev...en if informed in advance about this place so the reality is then still more impressive and spectacular than we imagined it. Zabriskie Point and Devil's Golf Course are good places for stunning photos. Pick up from hotel has also worked wonderfully. If someone wants to experience how it fills beyond the 40 degree mark, should a tour from June - Book August. :-) I can present this tour to anyone warmly recommend. Read full review
Questions previously answered may have different answers due to many reasons: season (date and year of travel), rates, availability, etc.Please check the Rewards4Fun Program FAQ for more information.
Ask Us
Edit Photo Title & Description
Loading……
Got a Question? Don't Hesitate.
1.866.933.7368 / 1.626.389.8668
Click here
Have our experienced tour consultant give you a call.
Why Book with Tours4Fun?
Best Price Guaranteed
Hand-picked Tours & Activities
Customer Satisfaction
Customer care available 24/7
You May Also Like