Death Valley National Park Small Group Tour
Product Code: 245-6178
Highlights
• Journey to the heart of Death Valley National Park!
• Visit the hottest, driest and lowest point in North America!
• See an array of colors at Artist's Palette
• This extreme desert environment is a photographer's dream!
Experience:

Nature

Get in touch with Mother Earth
Style:

Escorted

Tour director/guided escort is available from the beginning to the end of the vacation
Group Type:

Small group

Take an intimate and semi-private trip with a small group
Activity Level:

Moderate

Designed for travelers in good health who are comfortable with light walking or hiking
Quality:

Standard

Travel with professional guides, enjoy more time at attractions and/or stay at comfortable accommodations
Las Vegas - Death Valley National Park - Las Vegas
Visit one of the most unique landscapes on earth!

This full day tour offers spectacular highlights of Death Valley. You will be amazed at the sheer size and astounding natural features in this desolate national treasure.

This journey takes you right to the heart of Death Valley where there will be breathtaking photos opportunities at Dante's View and Zabriskie Point. A stunning scenic drive will lead you to Artist's Pallet and we'll of course stop at Badwater Basin - the lowest point in North America! Take a walk out on the most protected salt flats on earth.



We'll stop at Furnace Creek Visitor Center, the Devil's Golf Course and browse the Death Valley gift shop heading back through the Mohave Desert in time for some good old fashioned Vegas nightlife!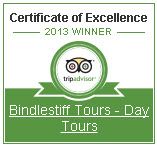 Tripadvisor Certificate of Excellence 2013, 2014 and 2015
Pick-up
Details/Transfers
This tour departs Las Vegas at 8:00 am and arrives back in Las Vegas at approximately 5:00 pm.

This tour offers pick-up service from hotels on the Las Vegas Strip.
Package Includes
Hotel transfers
Sandwich Lunch (Veg. Option Available)
Professional tour Leader
Light snacks and water
Park Entry
Package Excludes
All personal expenses
Tips for your tour guide or driver: 15% - 20%
Please call the provider 24 hours prior to your tour to confirm your pick-up time.
Please provide your email address when you make your reservation for reconfirmation and important information pertaining to your tour.
Depending on the size of the tour group, this tour will be conducted on a SUV, 13-passenger mini-bus or 9-passenger mini-bus
Please note that temperatures in the months of July and August may exceed 45C/115F. We will provide plenty of drinking water to keep you hydrated. Please bring sunscreen and a sunhat/cap on this tour.
Cancellation policy:
Cancellation Made Within-------------------------------------Cancellation Fee
7 or within 7 Days Prior to Departure Date------------100% of Reservation Cost
8-14 Days Prior to Departure Date-----------------------50% of Reservation Cost
15-29 Days Prior to Departure Date---------------------- 25% of Reservation Cost
30 or More Days Prior to Departure Date-----------------10% of Reservation Cost
In the rare instance your tour does not achieve the minimum number required to run, the local agency reserves the right to cancel the tour with notice. The minimum numbers required to run a tour are 4 passengers. We strongly advise you not to incur any non refundable expenses such as flights until you have received confirmation from us that your tour is running.
This tour/activity is overseen by a select local operator in the region. Upon booking your tour or activity and after receiving confirmation, you will be issued an e-ticket detailing the local operator's name and contact information. If you require assistance finding a specific tour, please contact us for more information.
Pricing Info
Your reservation is always subject to confirmation by email, normally within one to two business days.
*We CANNOT take children under 7 years of age.
Reservation Info
1.Immediately after submitting your reservation you will receive a Receipt of Reservation via email.

2. Within one to two business days of submitting your reservation you will receive a confirmation email from us. If you need to book an airline ticket, we recommend that you do so after you receive a confirmation of your tour reservation from us.

3. An E-Ticket will be sent to you via email as soon as details of your reservation are confirmed or your supporting information is received by us. We will provide you with all detailed information about your tour on the E-Ticket. Contact information for local tour provider will be included on E-Ticket for your convenience or re-confirmation purpose if re-confirmation is required.

4. Simply print your E-Ticket and present it with your valid photo ID on the day of your activity to your tour guide. Please remember E-Ticket is your proof of purchase.
Terms and Conditions
- Your purchase does not guarantee confirmation. Your purchase will initiate a reservation process. We will confirm with you via email within one to two business days.

- Prices may vary due to availability. We reserve the right to make price adjustment without prior notice.

- Local tour provider reserves the right to make modifications to tour arrangements including order of tour activities, hotel and its location if deemed necessary.
Write a Review and earn 200 points. Attach photos to your review and earn 25 points per photo.
Please check the Rewards4Fun Program FAQ for more information.
Tell Us
Joann Duncan

Great Tour

The small group trip to Death Valley was very informing and personal. Couldn't have asked for a better guide than Michael. He was great and accommodated any request.

James Von Gossum

Amazing!

First time to Las Vegas to celebrate 21st Birthday, booked Death Valley Tour and was lucky enough to be the only ones that day.... private tour! The tour guide was extremely knowledgeable and tailored the day to us, would definitely book ag...ain this year. 5 Stars. Read full review

Rebecca Pleins

Best Death Valley tour from Vegas

Mike was kind, considerate and insightful (my husband is still hearing "Mike said" and my tour was 9 days ago) as well as showing us things we would not discover on our own. He also delivered my National Park passport book to me at my hotel... when I left it in his van which I greatly appreciated. If you will be in Vegas you owe it to yourself to go on a tour with this company. They do 3 and 7 day tours as well and I will definitely take one of those if I ever get a chance. Read full review

Charlotte Greeves

Best Death Valley Tour from Las Vegas

We booked 4 tours during our trip to Vegas (we made the mistake of only booking one tour with Bindlestiff tours I won't name the other company but they are a rather large company focused on the Grand Canyon.) Our day at Death Valley was bre...athtaking that alone was worth it, we had a small tour group, and our fantastic tour guide took the time to get to know us all and find out what we really wanted to know about Death Valley. He told us really interesting facts about the whole area both on the drive and when we arrived. If you have a love for history and geography then this is the tour for you. We will be booking another tour when we return to Vegas :) Read full review

Tracy Chudy

Amazing tour

I took this tour in January and can't say enough good things about it. Our guide Mike was so knowledgeable and enthusiastic! The stops were beautiful and even though there was a schedule to keep to, it never felt too rushed. I took a couple... of other tours on my trip from another company, and while they were very good, I would say Mike made this the best by far. It was a bit more expensive than the other trips, but well worth it. Even the boxed lunch, which I was apprehensive of, was quite good. I would have no reservations about doing a trip with them again - I felt we were in very good hands. Read full review
Questions previously answered may have different answers due to many reasons: season (date and year of travel), rates, availability, etc. Please check the Rewards4Fun Program FAQ for more information.
Ask Us
Hi, I want to take your day tour. We would have to book it for Sept. 10. We are staying at the Monte Carlo. Do you pick up from that hotel? Thank you so much for your help.
Merry
06/14/2017 20:36:07
Tours4Fun
06/14/2017 22:26:26
Dear Merry,

Please note that these tours offer pickup from major hotels in Las Vegas.

We can only verify the pickup details once we confirm your tour as pickup location will be subject to confirmation.

To place your order for a reservation online, simply select your desired tour start date and the number of rooms you need/ travelers you are booking for on the upper right section of the tour information page, then click on "BOOK NOW".

Thank you for your inquiry. Please reply to this email or call us at 1-866-933-7368 (US&Canada), 1-626-389-8668 (International) (24 hours a day, 7 days a week) if you have further questions.

Best Regards,
Junnie
Customer Service Rep
What is the difference between the tour 118-3441 and this one 245-6178?
Thank you!
04/13/2015 20:12:01
Tours4Fun
04/13/2015 21:28:33
Dear Fannie,

For tour code 118-3441, you will visit Furnace Creek, Devil's golf Course, Badwater, and Zabriskie Point.

You'll travel in custom built 10-passenger Tour Trekkers and the tour is available on a daily basis.

For tour code 118-3441, you will visit Furnace Creek Visitor Center, the Devil's Golf Course and photo opportunities at Dante's View and Zabriskie Point.

This is a small group tour with a maximum of 14 people departing every Sundays and Fridays.

Best Regards,
Jane
Customer Service Rep
Edit Photo Title & Description
Loading……
0
Ask Our Experts
Destination Expert of North America
Miriam Garcia
Los Angeles, United States
Customize This Tour For Me
Why Book with Tours4fun?
Best Price Guarantee
Hand-picked Tours & Activities
24/7 Customer Support