2 Day Bryce Canyon & Zion National Park Camping Tour
Product Code: 245-6177
Experience:

Nature, Adventure

Get in touch with Mother Earth; Explore the world with an active and adrenaline pumping tour
Style:

Escorted

Tour director/guided escort is available from the beginning to the end of the vacation
Activity Level:

Strenuous

Activities are geared towards experienced and fit travelers
Quality:

Camping

Each night you'll unroll your bedroll and sleep beneath the stars
Accessibility:

Not accessible

Tour does not have wheelchair accessible vehicles/attractions or allow service dogs
Las Vegas - Bryce Canyon National Park
Hotel: Campsite or similar
A scenic 4-hour drive from Las Vegas will take us up to an elevation of 8,000 feet and into into Bryce Canyon National Park. Take a stroll along the rim and marvel at this natural amphitheater characterized by sandstone spires known as hoodoos. Hike down into the hoodoos for a close encounter with these wild and wonderful rock formations.



Camping is highly recommended during the summer months, but you do have the option of upgrading to a hotel. The hotel upgrade will be required during the winter months when camping is not an option.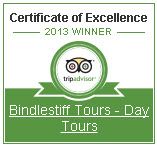 Tripadvisor Certificate of Excellence 2013, 2014 and 2015
Visiting Attractions
Zion National Park - Las Vegas
On the second day we will head to Zion National Park, where massive canyon walls and red sandstone cliffs are capped by piercing blue skies. For a more challenging trek, take the trail along the precipitous rock fin to Angels Landing. For the less athletically inclined, take one of the easier trails to the enchanting Emerald Pools. If you want go deeper into the canyon, follow the Riverwalk Trail.

Drop-off service is available at hotels along the Las Vegas Strip. Please call the local operator 24 hours prior to tour departure to confirm the pick-up point and time.



This tour can be extended with one of the following:
Wild West Ghost Town
Death Valley Tour
Visiting Attractions
| | | |
| --- | --- | --- |
| | Please note that order of day-to-day itinerary is adjustable depending on tour start day. | |

| | | | | | | |
| --- | --- | --- | --- | --- | --- | --- |
| | | Standard Hotel | | | | Upgrade Available |
Pick-up
Details/Transfers
Pick-up service is available at hotels along the Las Vegas Strip. Please call the local operator 24 hours prior to tour departure to confirm the pick-up point and time.
Package Includes
Complimentary pick-up and drop-off from hotels along the Las Vegas Strip
1-night accommodations (tent)
Camping equipment (bring a sleeping bag!)
Professional tour guide
Admission to national parks
Package Excludes
Airfare or transportation between your home and Las Vegas
Tips for your tour guide or driver($20/person/day)
Please call the local provider 24 hours prior to tour departure to confirm your pick-up time and location.
Please provide your email address when making your reservation for confirmation and important information regarding your tour.
We recommend that you book your plane ticket after you receive the confirmation email from us (normally within one to two business days).
Cancellation policy:
Cancellation Made-------------------------------------Cancellation Fee
9 days or less------------The full amount of the original order
10-14 Days Prior to Departure Date-----------------------50% of the original order
15-29 Days Prior to Departure Date---------------------- 25% of the original order
30 days or more-----------------10% of the original order

In the rare instance the minimum number of passengers is not met, the local agency reserves the right to cancel the tour (with at least 5 days notice). The minimum for this tour is 4 passengers.
This tour/activity is overseen by a select local operator in the region. Upon booking your tour or activity and after receiving confirmation, you will be issued an e-ticket detailing the local operator's name and contact information. If you require assistance finding a specific tour, please contact us for more information.
Pricing Info
Your reservation is always subject to confirmation by email, normally within one to two business days.
*Price based on a shared room/tent. Single travelers will be paired with another same sex traveler in twin room with 2 beds.
*Children under 7 years of age are not allowed on this tour.
*Maximum room/tent capacity: 2 people
Reservation Info
1.Immediately after submitting your reservation you will receive a Receipt of Reservation via email.

2. Within one to two business days of submitting your reservation you will receive a confirmation email from us. If you need to book an airline ticket, we recommend that you do so after you receive a confirmation of your tour reservation from us.

3. An E-Ticket will be sent to you via email as soon as details of your reservation are confirmed or your supporting information is received by us. We will provide you with all detailed information about your tour on the E-Ticket. Contact information for local tour provider will be included on E-Ticket for your convenience or re-confirmation purpose if re-confirmation is required.

4. Simply print your E-Ticket and present it with your valid photo ID on the day of your activity to your tour guide. Please remember E-Ticket is your proof of purchase.
Terms and Conditions
- Your purchase does not guarantee confirmation. Your purchase will initiate a reservation process. We will confirm with you via email within one to two business days.

- Prices may vary due to availability. We reserve the right to make price adjustment without prior notice.

- Local tour provider reserves the right to make modifications to tour arrangements including order of tour activities, hotel and its location if deemed necessary.
Write a Review and earn 200 points. Attach photos to your review and earn 25 points per photo.
Please check the Rewards4Fun Program FAQ for more information.
Tell Us
Deb King

Spectacular

Joe, our guide, was enthusiastic and well versed in the area's history and lore. Travel was easy between Las Vegas and the parks. Views were spectacular. Well worth it!

Claudine Smith

Fantastic Tour!

Our 2 day tour to Bryce and Zion Canyons surpassed our expectations. Our guide Joel was both knowledgeable and considerate. The sights were breathtaking. On the afternoon at Bryce Canyon we did the 3 mile hike from Sunset Point to Sunrise P...oint which took us about 2 hours with stops to rest and admire the scenery. It was the highlight of our tour. We chose the lodging option and our accommodation was clean and comfortable. The next day we drove to Zion Canyon. On Joel's advice did the Narrows Hike which was great as it was a hot day and to walk through the cool waters of the Virgin River was nice and the sit on the rocks beside the River and have lunch was also nice. Thanks Joel and Bindlestiff tours for a great trip Read full review

Marcy C

Verified Purchased

08/16/2016

What a wonderful experience

A group of us have traveled to Las Vegas for the last 6 years and are always looking to find interesting ways of seeing this wonderful area. We have a wide range of ages and a member of the group who makes the perfect travel researcher. L...ooking for a way that 9 of us could travel together as a small group she came upon and made a pitch to the rest of us to try a camping adventure overnight ignorer to visit Zion and Bryce Canyons. So happy that we were brave enough to try their suggestions. Our guide, Rachel, met us with all of the gear that we would need but for our own personal needs. Traveling to Bryce she passed the time by presenting a wonderful background of the geology and history of the area that we were traveling through. Using several stops along the way to make sure that we were hydrated and had the fixings for lunch we arrived at Bryce to visit an exquisite creation of Mother Nature. We camped nearby at a very pleasant campground and had a quick lesson on setting up our campsite with tents and enjoyed a wonderful supper. Morning found us breaking camp and having a wonderful breakfast before we left for Zion. The van that we traveled in was very comfortable and we were able to really enjoy each others company on the excursion. We were never wanting of something. Rachel had all that we needed. it was a hot day in Zion but we experienced as much as the heat would allow. Returned that evening to Las Vegas with wonderful memories of a great adventure. None of us was too old ( 50's to 72) to enjoy all this trip had to offer, much to our delight. Read full review

Sharon

Verified Purchased

08/15/2016

excellent tour and company

"My 8 friends and I booked a 2 day tour of Bryce and Zion National parks with Rachel in July. It was wonderful! We had so much fun the two days flew by. Before the tour, Rachel had been very helpful about giving us tips and answering the ma...ny questions we had. We were a mixed group, both in age and hiking abilities. Rachel took all of this into account when planning for our trip. Even our night's accommodations were mixed; 7 of us camping and 2 staying in a nearby hotel. It was immediately apparent to all of us that Rachel had planned our outing down to the smallest details. We started our adventure from our hotel in Las Vegas at the civilized hour of 8 A.M. Rachel gave us several different choices as to how we wanted our 2 days to proceed. During the drive to the parks there were numerous stops where we could purchase snacks, lunch and have bathroom breaks. Rachel was wonderful tour guide; friendly and extremely knowledgeable, giving us plenty of information on a variety of topics during the ride. In addition, we were given printed information about each of the parks. The two national parks were very different but both magnificent. At Bryce, Rachel hiked with some of us into the park's amphitheater. Another option was a walking on a trail around the rim. No matter which of the trails we took, we all agreed the views were awe-inspiring. Make sure you bring some sort of camera. The red, orange, and white colors displayed on the hoodoos were spectacular and made for fantastic pictures. After hiking, we drove to the campsites that Rachel had reserved for us. The tents were of good quality; easy to set up and take down. The BBQ that Rachel had arranged for us was excellent. She even brought all the ingredients for us to make smores. Those who stayed in the hotel were pleased with their accommodations. The next morning we went to Zion National Park where once again Rachel advised us about the park's history and the many hiking and viewing options. Within the park, free shuttle buses run every few minutes taking people from one point of interest to the next. Astonishing views are everywhere within the canyons due to the reddish /tan sandstone. We were all extremely happy that Rachel had made sure we had plenty of water as the day's temperature was over 100 degrees. This was one of the best tours I have ever taken. It was a truly unique excursion. Rachel made this tour so easy for us. We will definitely be utilizing her guide skills again in the future." Read full review

Anonymous

Verified Purchased

08/03/2016

Excellent trip!

The trip was excellent. From the moment we were picked up until we arrive back at our hotel, we had an absolutely fun filled adventure. Rachel, our guide, was friendly and knowledgable. Thank you for a wonderful trip.
Questions previously answered may have different answers due to many reasons: season (date and year of travel), rates, availability, etc. Please check the Rewards4Fun Program FAQ for more information.
Ask Us
Edit Photo Title & Description
Loading……
1
Why Book with Tours4fun?
Best Price Guarantee
Hand-picked Tours & Activities
24/7 Customer Support